Details about MacFamilyTree 8*
Application: MacFamilyTree
Current Version: 8
Supported OS: Mac
Mobile Apps: iPhone/iPad/iPod touch (MobileFamily Tree)
Price: $59.99 (limited demo available), $19.99 (MobileFamily Tree)
Publisher: Synium Software
Website: http://www.syniumsoftware.com
GenSoftReviews: 3.17 stars out of 5
Important Update: The latest version of MacFamilyTree (MFT) is now 8.0, which I tested, and I updated each of the Cons listed below.
Versions tested: MFT 7.6.2 and MFT 8.0 (thanks to Synium Software for the redeem codes).
Portions of text in all capital letters that are not acronyms are GEDCOM tags, with the rest of the plain text field name in lowercase. References to the GEDCOM standard are to version 5.5.1.
Importing a GEDCOM file into MFT is straightforward, but MacFamilyTree has an article, "Switch from Family Tree Maker to MacFamilyTree and import your family tree," on their website. However, see the Cons section for my take on the "Attention: Media file import" section.
PROS
+ Upon importing a GEDCOM, a "GEDCOM Import Warnings" log is produced listing not parseable tags and unreadable data entries. This is a good thing; a genealogy app should always produce a GEDCOM import log listing any data that could not be imported.
+ Found no unreadable data entries in my GEDCOM, which is also a good thing since there weren't any.
+ Imported GEDCOM tag WAC, LDS Initiatory.
+ Imported FTM's invalid ALIA tag as an Other Name, which is then exported correctly back to GEDCOM. MFT8 Update: However, MFT does not import a valid ALIA tag correctly; it simply imports the pointer (cross-reference), e.g., "I008." There doesn't seem to be a proper ALIA field in MFT.
+ Exported GEDCOM file is labelled as version 5.5.1, which is the latest version.
+ For sources, lists all citations for each source and the events and/or they're linked to. It's also possible to edit citations from this list.
+ For source citations, it is possible to copy and paste them, similar to the way one can in Family Tree Maker (FTM).
+ Allows associated persons to be included, but they are limited to godparents, birth witnesses, and death witnesses (but not marriage witnesses).
+ All events can include an Address, Agency, and Cause as allowed by the GEDCOM standard. But see the Cons sections for problems with addresses.
CONS
GEDCOM Import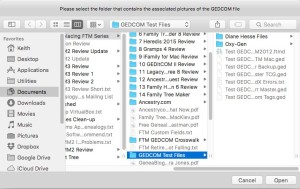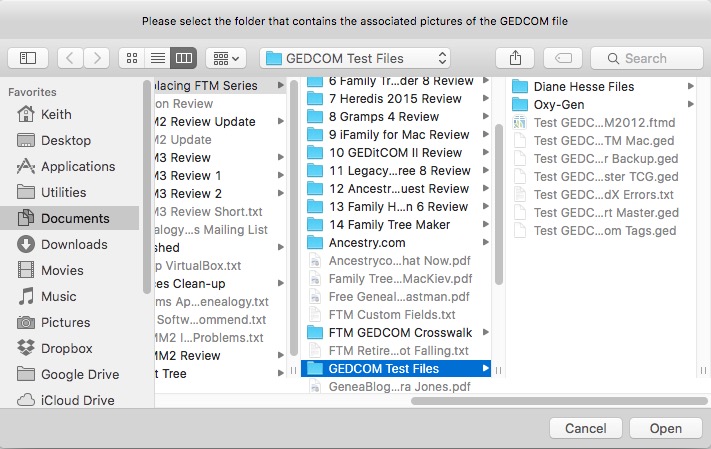 — While importing a GEDCOM, MFT prompted me to select the location of my media files (Fig 1). This was unnecessary because the full path was specified in the GEDCOM. It should only be necessary if the path is invalid or the media are missing from the specified path. Furthermore, it is entirely possible that media files could be in more than one folder, but MFT expects them all to be in the same folder, which is nonsense. In the article about switching from Family Tree Maker that I referenced above, Synium states, "Unfortunately the developers of Family Tree Maker made the very poor choice of not importing media files but just linking them. Just Family Tree Maker knows where these files are and there are just links to those media files." This is rubbish on two counts:
When a family tree is saved to GEDCOM, the only way for media to be exported is by including the links to them anyway—GEDCOM did away with embedded binary objects in version 5.5.1 (the latest standard).
When a GEDCOM file is imported by another app, it should be able to read the media file links, regardless of the location of the files.
MFT8 Update: Still applies. Furthermore, as reader Karen pointed out, "MacFamilyTree stores everything – data and media – in a single file package. In my case, it's HUGE – over 4 GB. It seems as though any change to your data necessitates a re-write of the entire file to the cloud" if you use the option to store your tree in iCloud. It seems to me that it's the developers of MFT who have made a poor choice of importing media files.
— Failed to parse valid GEDCOM 5.5.1 tags FACT, EMAIL, PHONe, and WWW, but at least they were listed in the import warnings log. MFT8 Update: Still applies.
— Failed to parse valid EMAIL and PHONe tags in a repository record (also listed in the import warnings log). MFT8 Update: Still applies.
— Failed to import the following tags, but there was no import warning: city, state, and postal code on an address; name prefix and name suffix. However, it exported the name suffix field correctly. MFT8 Update: Still applies.
— Failed to import the submitter record, nor does there seem to be the option to include one in an exported GEDCOM file. MFT8 Update: Still applies.
— Imported an invalid event description. While laudable to preserve data, it would be better to import it into the corresponding event's note field. It also exported the  invalid  event description to GEDCOM. MFT8 Update: Still applies.
— On the other hand, failed to import valid event descriptions from EVEN.TYPE structures (per GEDCOM 5.5.1, pp. 32, 35, and 48). For example:
1 EVEN Housekeeper
2 TYPE Employment
2 DATE BET 1885 AND 1900
2 PLAC Winslow, Jefferson, Pennsylvania, USA
MFT imported the event type, Employment, but failed to import the description, "Housekeeper." In all similar structures, it ignored the contents following the EVEN tag, which accords with GEDCOM 5.5 but not 5.5.1. What it actually ended up doing was replacing the existing description with the event type, in this case, "Employment." Also see below for an export error. MFT8 Update: No longer applies.
— Imported a Relationship Reference Number (tag REFN) as a relationship note rather than a fact, even though it's allowed by the GEDCOM standard (p. 24). In fact, there doesn't seem to be a place in MFT for a Relationship Reference Number. MFT8 Update: Still applies.
— Labeled "Adult Christening" as "Adult Baptism," which is not the same thing; the CHRA tag should be imported as "Adult Christening," as defined in the GEDCOM standard (p. 85). MFT8 Update: Still applies.
— Additional problems with importing multimedia:
Imported a note on a media file twice so that there was a duplicate.
Imported the file name and path into the Title field but failed to import the actual title. The Title field is separate from the File field, as per the GEDCOM standard (p. 26 & 37).
Failed to import a change date, even though there is a field in MFT for "Creation and Change Date." This field was set to the date the media file was imported, rather than the CHAN.DATE tag from the GEDCOM as it should have done.
MFT8 Update: These problems no longer apply.
— Problems with importing source citations:
Imported Source Citation Text into the Source Text field and, in doing so, combined the text from all source citations into one field, without any spaces between the entries (Fig 2). Source Citation Text and Source Text are two separate fields. MFT doesn't even have a separate field for Source Citation Text, which is unacceptable. MFT8 Update: Still applies, although now there are line breaks between the entries. There is still no separate field for Source Citation Text.
Imported source citation quality ratings (tag QUAY) incorrectly. Failed to import QUAY 1 and imported 0 and 2 as "Secondary" and  3 as "Primary." Apps should just import the numerical rating and spell it out per the GEDCOM standard, e.g., 0 = "Unreliable evidence or estimated data." Apps can and probably should include additional ways of evaluating sources, as per Evidence Explained or the Genealogical Proof Standard, but they must still be able to translate that information to and from GEDCOM.  MFT8 Update: No longer applies.
GEDCOM Export
— Offers two character sets as options that are not in the GEDCOM standard, OS X Roman and Windows. Selecting these options could cause problems for receiving systems or applications. MFT8 Update: Still applies.
— Exported the following standard fields incorrectly:
Ancestral File Number (as REFN instead of AFN), even though it imported the field correctly.  MFT8 Update: Still applies.
Nobility title (exported to NPFX instead of TITL). MFT8 Update: Still applies.
Phone (exported the PHON tag directly under the individual record instead as part of an address, which in turn must be attached to an event, as required by the standard (pp. 31 & 32). MFT8 Update: Still applies.
LDS Child Sealing (missing required FAMC tag, even though it was in the original GEDCOM that I imported). MFT8 Update: Still applies.
Source Reference Number (used tag REFN instead of CALN). MFT8 Update: Still applies.
— The following user-defined tags were missing the required initial underscore: COLO, DEED, EMAI, EYES, HAIR, HEIG, HOBB, HONO, MISS, NOBI, MISC, and WEIG (see the GEDCOM crosswalk for the definitions of these tags). Also, email has a standard tag, so a user-defined tag isn't needed, as long as the correct structure is used (see above for phone). MFT8 Update: Still applies.
— Problems with exporting media:
Failed to export citation media, even though they appeared to be imported correctly; the media were attached to the corresponding source record, however. MFT8 Update: Still applies.
Changed media file names from what they were when imported to the corresponding cross-reference number. For example, if the cross-reference number of  "Mary Larko.jpg" was "OM2759," then the file name was changed to "OM2759.jpg." Some users might prefer that the files keep their descriptive names. Furthermore, MFT exported only the file name, not the "complete local or remote file reference to the auxiliary data to be linked to the GEDCOM context" as required by the GEDCOM standard (p. 54). MFT8 Update: Still applies.
As noted above, MFT imported the file name and path into the Title field instead of the actual title; consequently, this is what was exported to GEDCOM. Although it was exported properly, it would have been better if it had been imported properly to begin with. MFT8 Update: No longer applies.
Missing required FORM tag subordinate to the FILE tag (p. 26). MFT8 Update: Still applies.
Other
The demo is fully functional except for saving and printing. The inability to save is a serious limitation; you can't close MFT as long as you are demoing it, and you can't test the GEDCOM export function.
In the Edit Person window, clicking on the Events Type heading sorts the events in a random order (Fig 3). The expected behavior is to sort the events alphabetically by type. MFT8 Update: No longer applies.
In the Edit Person window, source citations are listed in a columnar format (Fig 4), but the width of the columns is not adjustable. The width of the Page column is only about 6 characters. Technically, the Page field is not just for a page number; GEDCOM defines it as "Where Within Source," and it could be up to 248 characters long. As you can see from the example, working with this field in MFT would be annoying. It would be better if MFT used a form type of layout with boxes for each field wide enough to accommodate a reasonable amount of text, similar to what FTM uses. MFT8 Update: No longer applies; the Page column has been widened.
When adding an event, after you enter the date, the event is sorted by date, which moves it from the bottom of the event list so that you have to scroll up to find it in order to add the place and description, if applicable. It would be better if the event weren't sorted until after completely exiting the event, either by tabbing or clicking completely out of it. MFT8 Update: No longer applies; after entering the date, the Place form pops up, and after that, the cursor moves back to the date field, so you can at least easily find the event.
The Address field on Events and Source Repositories

Fig 5 GEDCOM Address Structure

is incomplete: it contains only one box for the first address line. Address is not a single field but really a structure consisting of up to 13 fields, per the GEDCOM standard (p. 31, see Fig 5). However, only the ADDR and CONT tags are mandatory, but they must be formatted as they would appear on a mailing label. It seems to me that the only way to implement this is to use separate fields for each line, rather than just one Address box. MFT8 Update: Still applies.

Fields can only be exited by tabbing or clicking out of them. I would like to be able to use the Enter key to have the data accepted and move to the next field, which is the behavior that FTM uses. MFT8 Update: Still applies.
GEDCOM Crosswalk
I added the MFT fields to the GEDCOM Crosswalk at Family Tree Maker to GEDCOM to Other Apps Crosswalk. This table shows at a glance how the major genealogy apps name their fields within the app and how they are exported to GEDCOM. The color coding indicates areas of concern: fields in red are not imported and/or exported correctly, while fields in yellow use custom tags that may not be recognized by other apps or websites.
First Impressions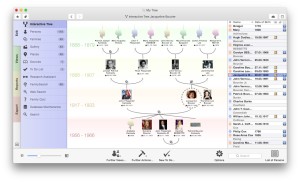 MFT has a nice-looking user interface that is easy to navigate. I could usually find what I needed without resorting to the help file, which was fairly complete. MFT is laid out with separate windows for people, families, media, places, sources, and web searches, similar to FTM, except that the buttons to select them are along the side instead of the top (Fig 5). However, users who are bringing an existing family tree to MFT via GEDCOM may be disappointed by MFT's poor handling of GEDCOM, especially with respect to media and sources. MFT might be better for users who are starting a tree from scratch, but even then there are problems with exporting to GEDCOM. While this review focused on GEDCOM handling, MFT has many useful features that I'll explore in more detail in a future update, such as integration with FamilySearch, built-in web search for a variety of websites, and the ability to produce a variety of charts and reports.

GEDCOM 5.5.1 Test: MacFamilyTree passes the GEDCOM 5.5.1 Test. While it has some compliance issues, both with import and export, it exports GEDCOMs using UTF-8 encoding as the default and correctly labels the files as version 5.5.1.
Updates
21 Apr 2016: Synium just released MacFamilyTree 8, which they say is a major update; you can find the details on their website. Since they only sell it through the Mac App Store, there is no upgrade price, but they're offering it for $29.99 until 17 July 2016. After that, the price goes up to $59.99, which is $10 more than version 7. I will test and report on the new release if they'll give me a new license code.
29 Apr 2016: Added a statement about the GEDCOM 5.5.1 Test.
3 May 2016: Updated the review based on MFT 8. While some problems were fixed, most GEDCOM problems still exist.
The Family Tree Software Alternatives Series
*Information current as of the date of this post