Family Tree Maker* (FTM) 2017 was officially released 16 July 2017. The 19 months since December 2015 when Ancestry.com announced the retirement of Family Tree Maker have been a bumpy road for the venerable genealogy application. All support for FTM and connectivity with Ancestry were to have ended by 1 Jan 2017.
However, in February 2016 Software MacKiev, the Mac version's developer, announced that they had purchased FTM from Ancestry and would continue development of both the Mac and Windows versions. At the same time, they promised free updates for owners of the then-current versions. While the MacKiev dot-one versions were put on sale within 2 months, they were not officially released as free updates to the current versions until 30 Dec 2016. At that time, connectivity with Ancestry was also extended until its replacement could be rolled out. Ancestry connectivity, including TreeSync, the ability to synchronize an FTM tree with one at Ancestry, was turned off on 29 Mar 2017, with its replacement, called FamilySync, to be turned on 31 Mar. The news about FamilySync contained a bit of a surprise: it would only be available in FTM 2017, the next iteration of FTM, which was to be released coincident with the deployment of FamilySync. Users of FTM 2 & 3 for Mac and 2012 & 2014 for Windows would no longer have any connectivity to Ancestry. If they wanted such connectivity, they would have to pay to upgrade to FTM 2017. Paid upgrades for software are commonplace in the industry so are to be expected, but usually such upgrades contain actual improvements and new features. FamilySync is a replacement for a previous feature, TreeSync, although it might be an improvement. FTM contains three actually new features. However, some of its features seem to have been downgraded, while the user interface hasn't seen a major facelift in several years.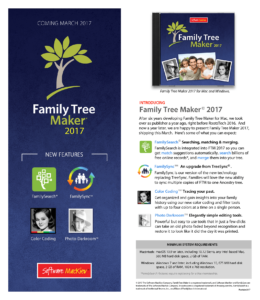 Opinions may vary about the balance of improvements to downgrades, but this article catalogs my assessment. I've already evaluated how well FTM handles GEDCOM, so I will only discuss changes since then.
Improvements & New Features
The core functionality of FTM has not changed; the user interface (UI) has not changed much since version 1 for Mac and 2010 for Windows. That's good in a way, since there's nothing much new to learn, but there are drawbacks, too (more below). MacKiev touts four major improvements, each of which I'll discuss in turn: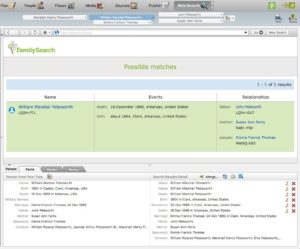 1. FamilySearch integration 2. FamilySync 3. Color Coding 4. Photo Darkroom. Fig 1 FTM 2017 Flyer
FamilySearch Integration
FamilySearch is one of the major genealogy record providers, so integration would be a good thing if it worked as well as integration with Ancestry. Previous versions of FTM allowed merging data from FamilySearch and other websites using the web clipping feature, but searching and merging from FamilySearch are similar, though not the same as, Ancestry (Fig 2).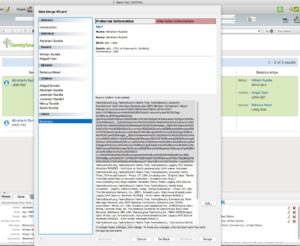 Multiple problems exist with the Source Citations from FamilySearch:
– The Source Citation to be added is too long (Fig 3)
– The actual citation that is added is different; while it's not too long, it is not quite in a recommended format (Fig 4)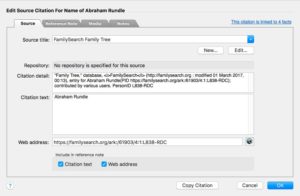 – Instead of one citation being added for the FamilySearch record itself, multiple citations are added, including 1 for FamilySearch and one for each of the citations at FamilySearch (Fig 5 & 6)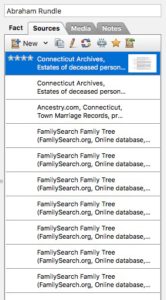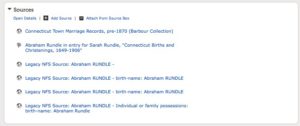 There should be only one correctly formatted source citation for the FamilySearch record. Here is one example based on Evidence Explained by Elizabeth Shown Mills:
"Family Tree," database, FamilySearch (http://familysearch.org : 01 March 2017), Abraham Rundle (PID L838-RDC); contributed by various users.
The complete URL should only go in the Web Address box, not in the Citation Detail, and each of the citations from FamilySearch should NOT be added.
FamilySync
I haven't seen a good explanation for why Ancestry decided to replace TreeSync. Initially they were going to eliminate it without any replacement, but after a public outcry, they decided to replace it with an application program interface (API) that works with both FTM and RootsMagic. RootsMagic announced they expected to roll out their integration with Ancestry in April 2017 in a free update to their current product, RootsMagic 7 (it was actually released in June). This is a completely new feature for RootsMagic, so this is a contrast with FTM, which included their replacement feature as a paid upgrade. However, like FTM, RootsMagic also experienced a delay in releasing their update, although it was only two months late instead of two and a half.

One definite improvement in FamilySync is that multiple copies of FTM can by synced with one Ancestry tree; TreeSync could sync only one FTM tree with one Ancestry tree. Subjectively FamilySync seems to be faster than TreeSync. It does the initial steps of the sync in the foreground, and then the sync window closes and the sync completes in the background so that the user can continue working (see Fig 7).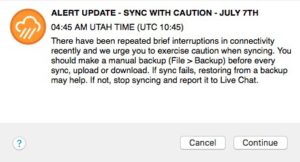 Another potential improvement is the new Sync Weather Report, which could be useful, but only if it is kept up-to-date. Otherwise, it will just be an annoyance to click through every time the user syncs their tree (Fig 8).
So FamilySync is essentially a replacement for TreeSync, with a few improvements. It's interesting to compare FamilySync with another implementation of the Ancestry API, that from RootsMagic. RootsMagic released a video showing how their Ancestry integration looks and works, and you can try it out in the latest version, even their free RootsMagic Essentials edition.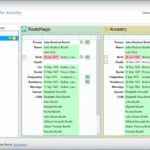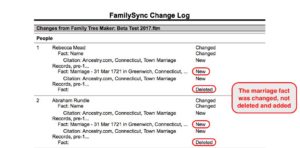 Although there are similarities in how FTM's FamilySync and RootsMagic's TreeShare work, TreeShare offers more precise control over changes. First, RootsMagic has a nice color-coded display of the changes (Fig 10) instead of a text-only change log (Fig 9). Second, users can accept or reject single changes at a time instead of either accepting or rejecting all in a batch. For example, in Fig 11, the user changed a birth date and deleted a death event in RootsMagic, but when reviewing the changes, he could accept the birth change and reject the death change, instead of having to accept or reject both.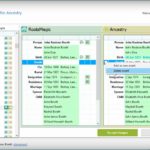 However, when it comes to Ancestry hints, which are a new addition to RootsMagic's Web Hints feature, I think that FTM is still slightly better because RootsMagic does not have a built-in web browser to view the actual record, as FTM does. In FTM you can view both the hint and the image, if any, right within the Web Search workspace, but in RootsMagic, you have to open the link to the hint in your web browser to view it.
Color Coding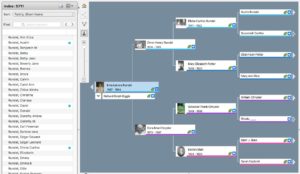 Color Coding is a new feature in FTM that enables you to assign up to four different colors to a person and their ancestors. It can also be used for filtered lists. The colors show up in the Tree view, as well as in the Index (Fig 12). Other applications have had a similar feature for quite some time. For example, Reunion allows you to Mark people, to include those in search results. Legacy Family Tree 9 has a similar color coding (and they didn't even trademark "Color Coding"). Color Coding can undoubtedly be useful, especially for filtered lists. Marking is one of the features of Reunion that I missed when I switched to FTM. The ability to save filtered lists in FTM 2017 may be even more useful than Color Coding, although the two features work well together. For example, if I want to filter a list of all people in my tree who died in New York between 1659 and 1999 so I can search for them at Ancestry, I can now save the filtered list so I don't have to create it again the next time I open FTM. Color Coding worked well for me, so I don't have any complaints about it.
Photo Darkroom
Photo Darkroom is a feature new to FTM that can darken faded black & white photos. The feature is assigned to a new button in the Media workspace (Fig 13). There are three levels of repair, depending on how faded the original is: Light, Moderate, and Intensive. You can compare the before and after before you save the changes, and you can also restore the original (originals are kept in a separate folder inside the Media folder, which is a good thing).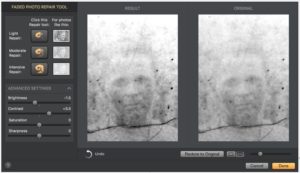 There are also separate settings under Advanced Settings for Brightness, Contrast, Saturation, and Sharpness. I found that the tool made a slight but perceptible difference on a very faded photo (Fig 14). My only complaint is that it was hard to find the Help on the tool. A search for both "photo darkroom" and "faded photo" produced no results. However, I found both search terms in the Companion Guide (I'm glad to see it's been updated), and once I knew where to look, I could drill down in the Help file and find them (Fig 15).

It's almost as if MacKiev changed their collective mind about what to call the tool, since they refer to both "Photo Darkroom" and "Faded Photo Repair Tool," but they do the same thing.
Other Improvements
Other than the saved filtered lists that I already mentioned, most of the other changes to FTM seem to be behind the scenes. The most important change is that both the Mac and Windows versions now share the same codebase. This means that their features are almost identical, and when the developer needs to change something, they should usually only have to do it once, instead of twice. As far as I know, the only feature difference between the two platforms is that the Windows version allows charting and publishing plugins, while the Mac version still does not.
Other important changes pertain to FTM's handling of GEDCOM. MacKiev president Jack Minsky previously committed to making FTM as compliant with the GEDCOM 5.5.1 standard as possible. Changes in FTM 2017 that move in this direction include:
Using UTF-8 encoding by default and removing invalid character sets
Exporting "Cause of Death" as part of a death event instead of a custom tag
Importing and exporting lat and long coordinates
Exporting concatenation tags correctly
Importing ANSEL character set correctly
Importing tag "RESN privacy" as private facts
Importing and exporting child order correctly
FTM 2017 still has room for improvement on GEDCOM 5.5.1 compliance, but at least it's making progress. Most other developers aren't even trying to improve their compliance.
One other last-minute improvement that was added to FTM 2017 is a feature they call the "FTM Co-Pilot Program," which was an out-growth of their Test Drive program. This feature is supposed to check in with the user after 48 hours of use and "run an optional diagnostic test to confirm that everything has gone as planned," according to the release email from Jack Minsky. Additionally, original test drivers will apparently get priority service in MacKiev's 24/7 Live Chat.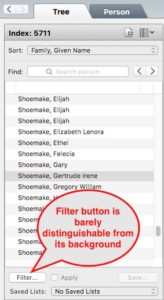 Areas for Improvement
The improvements in FTM 2017 are surely the figurative "2 steps forward," but in some ways it made no progress, or even regressed, starting with the UI, which hasn't changed much since the 2010 versions. It's beginning to look old and tired. I'm not advocating change for change's sake; the usability and accessibility of the application could be improved, both for power users and users with disabilities. As a non-expert in this area, I offer two examples of things that could be improved:
Increase the contrast between disparate elements of the UI so they are easier to distinguish. For example, the Filter button in Fig 16 is almost indistinguishable from its background.
Treat the Web Search workspace more like the web browser that it is. I have never used a web browser that didn't include standard navigation keyboard shortcuts:

While MacKiev is at it, they could give FTM a much-needed facelift.
A few changes MacKiev did make to the UI I find annoying. One such change is that the simple icons indicating media attached to sources (Fig 17) have been replaced with thumbnails (Fig 18). I do not see this change as an improvement.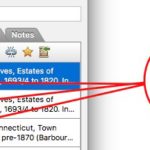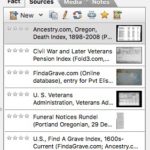 It disrupts the nice, clean look of the UI. In addition, the thumbnails truncate some of the text on the sources, which I find more useful than the thumbnails. But that's just one man's opinion.
Another area in which FTM 2017 could improve is its inability to open and convert versions of FTM files older than 2008 for Windows or 1 for Mac. FTM 2017 should be able to open & convert ALL prior versions of FTM, not just 2008 to the present. If RootsMagic can import versions 1 through 2014, then so should FTM. It's ridiculous that users with old versions must first convert their files using the Family Tree Maker 2005 Starter Edition (as explained here). FTM should be able to automate this process so that it's transparent to the user.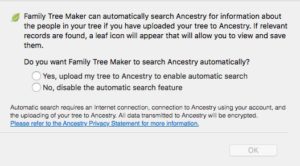 The last change I want to mention (you might find more), which I consider a downgrade, is that users must now upload their trees to Ancestry if they want to get green leaf hints (Fig 19). In the past, users could get Ancestry hints whether their tree was uploaded or not, but no more. I created a new tree in FTM 2017 and, sure enough, there were only hints from FamilySearch. I suspect this change was driven by Ancestry. Since Ancestry no longer owns FTM, there's no need for them to give FTM special treatment. What better way for Ancestry to get more free content than to force the thousands of FTM users to upload their trees? It's interesting to see that RootsMagic users also must upload their existing desktop trees if they want Ancestry WebHints. Please be aware that you can make your trees private and even keep them out of Ancestry's index if you don't want other users to see them.
Who Family Tree Maker Is For
People with Ancestry accounts: while RootsMagic has broken FTM's monopoly on Ancestry connectivity, FTM is still a good option, despite some problems with FamilySync, especially for existing FTM users who don't want to change.
People who care about GEDCOM 5.5.1 compliance: FTM continues to improve in this area, with more promised improvements to come.
Mac Users: FTM is still the best option for Mac users in terms of performance, features, GEDCOM compliance, and web integration. While other applications have better eye candy, their GEDCOM compliance in particular is poor. I think a similar case could be made for Windows users, as well, but I'm not a Windows expert, and there are several strong contenders in the Windows market, so I won't wade into that debate.
Users of FTM versions older than 3 or 2014 would probably benefit from upgrading, since there have been considerable performance improvements and bug fixes.
Personally, I fit into the first three categories, so I will continue to use FTM, even though I can't help feeling slightly disappointed with version 2017. It certainly contains some improvements and new features, but they're just about balanced out by the problems with FamilySearch integration and the stagnant UI. I would have to think very hard about paying the full price of $79.95, but I think the upgrade price of $39.95 is worth it.
Disclosure: I paid the promotional upgrade price of $29.95 for the Mac version of FTM 2017. I also reviewed a Test Drive of FTM 2017 for Windows to ensure it was equivalent to the Mac version. I did not receive any compensation from any party for writing this review.
*Notes: Family Tree Maker, FamilySync, Color Coding, Photo Darkroom, TreeSync, FamilySearch, and RootsMagic are trademarks or registered trademarks of their respective owners. This article was edited on 17 Dec 2017 to include the paragraph about FTM's inability to open old versions of FTM files.