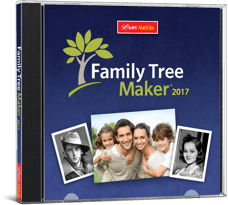 If you've been following the news about Family Tree Maker, you'll know that a brand new version, Family Tree Maker 2017 for both Mac and Windows, is set to be released on 31 March 2017. This new version will include the replacement to TreeSync, called FamilySync. What you may not know is that TreeSync will stop working on 29 March 2017; however, all prior editions and versions of FTM will not receive updates including the new FamilySync technology. Melanie Mayo, Family History Daily Editor, has posted a good write-up explaining the implications.
I'll reserve my opinions for a later date, so for now I'll just share these recommendations:
If you sync your tree with Ancestry.com, sync all your changes, download all your records, etc., before midnight Mountain Time on 29 March 2017.
If you plan to upgrade to FTM 2017 but need to purchase the upgrade, do so before 31 March 2017 so you can get the special upgrade price of $29.95.
Before you upgrade to FTM 2017, make a good backup copy of your tree(s). It's also not a bad idea to make sure you have the latest 2014.1 or 3.1 installer, in case you decide to roll back your installation of FTM to the earlier version.
I'll have more to say about FTM 2017 after it's been released and I've had a chance to review it.