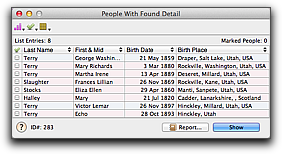 Finding and replacing text in your family file is irregularly needed, but can save you time when you can use it. Turning over this tedious task to Reunion makes more family history research time available to you. That is, provided you carefully define your search criteria and backup your Reunion family file first!
Reunion has search and replace well covered everywhere except source citation details. The fields within the source record are all available to the Find -> Replace feature on the menu-bar–no problem there.
The trouble is that source detail isn't a field in the source record and it isn't a field in the event or fact. It's a link between a source record and an event or fact. This is as it should be; it allows you to cite a single source for multiple events and facts and on different person records.

So we need a different way to do search and replace on the citation detail field. While you can search within citation detail in Reunion for Mac, replacing text is a manual process.
How to Search Citation Details
You might think that the Find feature would be used for the citation detail field. It's a reasonable conclusion and it's wrong. For some reason it's not an option there. This probably leads many Reunion users to conclude that the citation detail fields can't be searched. There is a way though.
To search citation detail field you use a source list (List -> Sources… on the menu bar). Buried in the source tools popup menu at the bottom of the source list window is the find citation detail feature.
You can use it to search citations of all sources or limit it to citations of the source that was selected in the source list. You also have the usual set of criteria for matching (is, is not, before, after, contains, does not contain, starts with, doesn't start with.)
Set the scope and criteria then enter the search term and click the find button. Reunion will return a list called "people with found detail" in a new window. Great! Now you've got a list of people with citation details matching your search criteria.
How to Replace Text in Citation Details
Wait! It's not all good though. Sure, you've got a list of person records, but which citations on the person? Here's where the manual part comes in.
Finding and replacing text within the citation detail on a person record must be done by hand. Reunion points you to the people and leaves it to you to look at all the facts and events to locate replace the text in the citation details.
Use these steps when you want to find and replace text in citation detail fields:
Select List -> Sources… from the menu-bar
If you want to limit your search to just one source, select it from the list
Click the "Source Tools" popup menu then select "Find Citation Detail"
Set the "Where to look" radio button
Set the "Detail" criteria
Enter the search term
Click the "Find" button
For each person on the "Person With Found Detail" list:

Double-click their row to go to the family card on which they are a spouse
Click their name button to open the "Edit Person" window
Check the citation detail fields on the "Name" tab and change as desired
Click the "Events" tab
Select each event in turn, checking the citation details and making changes as desired
Click the "Facts" tab
Select each "fact" in turn, checking the citation details and making changes as desired
Click the "Notes" tab
Check the "Details" field of any source citations for each note and change as required
Click the "Save" button
Go back to the "People With Found Detail" list by clicking Window -> People With Found Detail on the menu-bar
Painful, right? At least you know how to do it now. This whole complex process is clearly demonstrated in the following video.
GenealogyTools Members, download this video to your computer for your private use.