It took only a few minutes with Reunion for iPhone & iPod Touch to realize that researching and writing this review would not be a trivial effort; there's so much this iPhone app can do! Let's begin with the requirements so that's clear up front.
Requirements
For Reunion for iPhone to be of any use to you, your gear (or your wallet) will need to satisfy the following requirements:
Please note that all references in this review to functionality on Apple's iPhone apply, to the best of my knowledge, equally to their iPod touch
. I don't have one, so I can't validate this.
Getting Data to and from Reunion on the iPhone
The purpose of Reunion for the Macintosh enable is us to take our family files with us in the field, reference them, update them, then get the changes back into our primary system, Reunion on the Macintosh. Moving family files and changes is done by a process called synchronization, or syncing, for short. It's all done without cables. Here's a short video from the MacGenealogist Archives, How to Sync Reunion for iPhone with Reunion 9 for Mac.
Entire family files can be sent from Reunion on the Macintosh to Reunion on the iPhone, or just records for marked people, allowing you to choose what data you take. You have more choices about what to include:
No pictures; preferred picture only; first 5, 10, or 15 pictures; or all pictures
Include sources or not
Include logs or not
Multiple family files or just one
Individual changes made on the Macintosh cannot be synchronized to the iPhone; the entire family file is replaced when syncing in that direction. Preventing data loss can be done by remembering two things:
If you make changes in the family files on both the Mac and iPhone you'll need to send the changes from the iPhone to the Mac, then send the family file from the Mac to the iPhone.
Don't make changes the same fields in the same records on both the Mac and iPhone family files or some of those changes will be lost (unless identical changes were made).
The simple and elegant syncing of data between the platforms is one of the strengths of the Reunion software.
Using the Application
Another of the strengths of this app is that it uses the Family Card View (with the familiar back, forward, and home buttons) we're already accustomed to on Reunion 9 for Mac. The astonishing thing is that it simultaneously embraces our familiarity with Reunion on the Mac and also honors the iPhone way of doing things.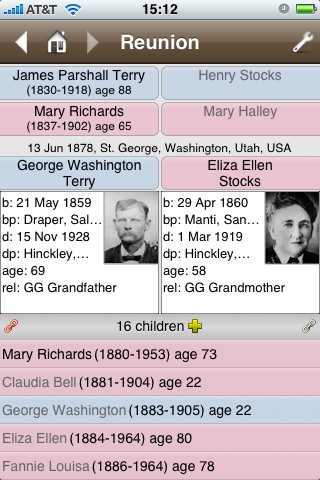 This makes navigation throughout the app feel like second nature. For instance, moving person to person on the family card is just as it's done on the Mac. It's apparent that the team at Leister Productions focused on making this version feel as much like using the Mac version as possible. They really pulled it off!
One of the areas that embraces the iPhone is the app's use of the phone's positional sensors. All windows support portrait and landscape orientations, so a simple turn of the iPhone automatically switches the family card view to this: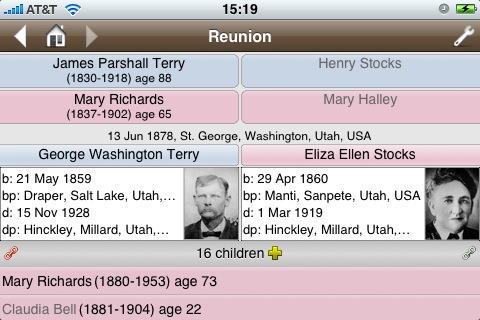 As one would expect on an iPhone, tapping a photo will display an enlarged version. Unfortunately, one cannot zoom in further than that. From their, one can switch to other pictures with a gesture or start a slide show of all the pictures linked to the person.
There are a couple caveats with respect to pictures. Only pictures linked to people (as opposed to family and sources) are synced to the iPhone. Only the portion of pictures visible in Reunion 9 for Mac is synced to the iPhone.
Gestures
Where the iPhone offers features that aren't present on the Macintosh, Leister Productions have put them to good use. A great example of this is the use of gestures—simple, one-stroke finger movements in one direction or another—that are used as shortcuts. The actions associated with each of eight possible gestures is configurable, so one could associate the search (find) with a gesture instead of, say, bookmarks. This the default gesture configuration:
Forward
Back
Index
Home
Links
Sources
Bookmarks
Overview
Multiple Spouses
Multiple spouse interaction also works as I expected. The link icon for the person is red if multiple spouse records exist. You can see this in the image above. George Washington Terry had two wives, so his link icon is red. His wife, Eliza Ellen Stocks had just George, so her's is grey. Tapping a red link displays a "Links" window, from which one can navigate to different associated family cards (including those of children and parents.
Overview Display
There's a gorgeous "Overview Display" that graphically presents a six-generation chart with three generations of ancestors and two generations of descendants around the source person. This, of course, assumes one has data for these other generations. Reunion for iPhone & iPod Touch can't create this out of the ether for you or else Leister Productions would be able to command much more than the $14.99 price.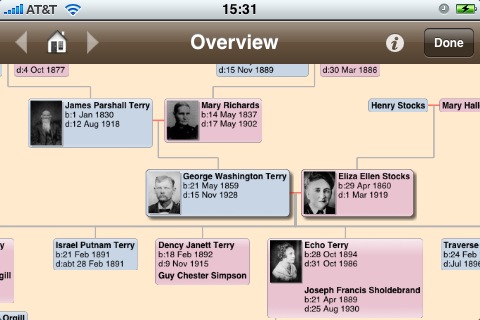 This display can be zoomed in and out with the "pinch" gesture that is used throughout the iPhone interface. In the example above, I'm zoomed in a bit, so the boxes will get bigger. They will also get much smaller—small enough, in fact, that the shape of that part of the tree can be observed, but not any details.
Changing the Home Card
The home card can be changed for the family files on the iPhone. You'll find the option within the "Family Info" window. Tap the "Make this the home card" button. The change of home card is not synchronized to the Macintosh.
I can't think of why one might want to do this. Especially given that the source person for calculating relationships cannot be changed on the iPhone. It is taken from the Macintosh family file when the file is synchronized.
Other Familiar Features
Here's a list of other features the iPhone version has in common with the Macintosh version of Reunion:
Searchable Index
Links Window
Treetops
Ages
Source List
Logs
Built-In Help
There's a tools menu where most of these features are found. Have a look at the screen grab below: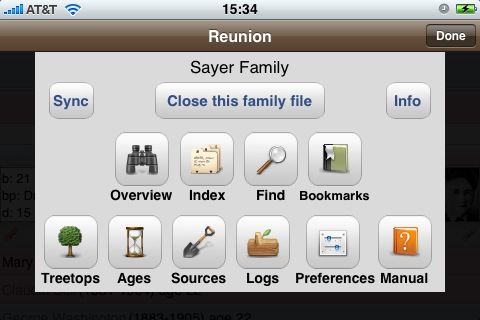 It bears a striking resemblance to the toolbar on the Macintosh version, no?
Index and Searching
A genealogy application, regardless of the platform, must provide search capabilities. Reunion for the iPhone delivers the ability to browse the index of people using techniques similar to the Contacts app on the iPhone. That's well and good for small to medium family files, but not so for large ones. In fact, Leister Productions notes that, due to iPhone processing limitations, scrolling performance of the "Index Window" will degrade when family files are larger than about 3000 people. They suggest sending subsets of family files if you find yourself in that situation. Large indexes can still be searched using the built-in "Find" feature.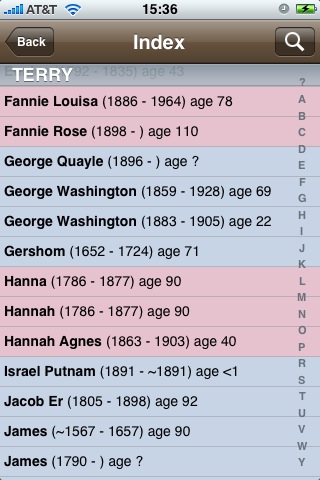 I found searching with the "Find" feature to be quick. It is, however, limited to searching names and in a particular way. I suspect that this is another of the things that they've made the best they can, despite limitations in the capabilities of Apple's iPhone software. In any case, searches are entered in last-name, first name format, but there's an efficiency built in too. The search need not specify whole names, only enough to disambiguate them to the searcher's satisfaction. For example, to search for my name, one could type, "sa,be" and tap the "Search" button. If the search results in only one person's record, the family card for that person is displayed. If there is more than one record in the result set, that list is displayed. Taping a name in that list navigates to the respective family card. It's not the "Find Anything" feature we're accustomed to on the Macintosh version, but it's well thought out and executed.
Editing Your Data and Other Changes
There's good news here too! All data in the family file can be edited. Child status and order can be set and changed. Adding related people works just as one would expect: tap an child, parent, or spouse button, just like on the Mac. Adding an unrelated person is done by tapping anybody's "Links Icon," then tapping the "Add unrelated person" button at the bottom of the page. People and links can be removed. Sources and logs can be added. One can even enter and convert Hebrew dates.
Speaking of sources, while I was able to quite nicely add and edit sources, I wasn't able to remove one on the iPhone. I guess one could work around this, but it seems like a miss to me. I hope it's not me that's missing something obvious.
Gotcha?
There's a dark mark here, but Leister Productions isn't at fault on this one. Text fields with "rich text formatting" (e.g. bold, italics, underlining, hypertext links, and superscript source citations) can only be appended to. This is because the Apple does not support displaying or editing, rich text fields on the iPhone. The result is that one is presented an empty note field after tapping the Edit button on a field that contains rich text. Whatever is written into this new text field is appended to the existing field when the Done button is tapped.
Similarly, source citations in note fields cannot be displayed in the customary, superscript format (rich text, remember?). Instead they are displayed as the source number, a space, and the start of any detail text, all within square brackets. As a result, the source is not linked in the note, so selecting it for editing requires additional steps. Specifically, one must note the source number then navigate to it in the Sources Window. If the field to be edited contains no rich text formatting, one is not limited to this append approach.
Future Feature Requests
Please make URL source fields open a the URL in a Safari browser window when tapped. I'd also like a search feature for the source list.
Recommendations
I have no affiliate relationship with the makers of Reunion (as much as I would like too), so allow me to gush. This $14.99 iPhone app sets the standard for genealogy applications on any hand held computer. It's well designed and feature rich. It enables you to have your family history data available in your pocket or purse and edit it in ways that are comfortable and familiar then get it back into Reunion on your Macintosh. In fact, if you travel with your genealogy data, and who doesn't, I think you may find it worth the price of the app and a $219.00 iPod touch
if you're not already outfitted with one (or an iPhone like me). If you have several gigabytes of genealogy data you want to carry along with your library of videos, movies, and music, that's no problem, get a 16GB or 32 GB iPod touch. Alright, enough gushing. Go get it!
By the way I don't have an affiliate relationship with Apple either (as much as I would like too), but I do have one with Amazon.com. So, if you buy an iPod (or anything else for that matter) by using the above link it will help support GenealogyTools.com. My aim isn't to sell you anything in this review, but if you do buy, I would appreciate it if you use my affiliate link.