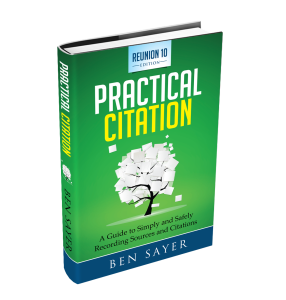 This morning I published on Kindle, "Practical Citation, A Guide to Simply and Safely Recording Sources and Citations." Three editions are currently available: Reunion 10, Family Tree Maker 2014, and Family Tree Maker 3 (Mac).
Find them easily through my author page on Amazon US. The ebooks are also available through Amazon in other countries.
Even if you don't have a Kindle, iPad, or other compatible device you can read the ebook. You simply download free Kindle reader software for your computer.
If you'd rather have a copy you can print you could join the Practical Citation community at PracticalCitation.com. Membership comes with PDF copies of all editions of the guide.
The RootsMagic 7 and Family Historian 6 editions will be available soon.