I noticed in the ReunionTalk Forum today that there's been some discussion about this subject and thought I'd publish a video to clear things up.
If you've got the new Pages app on your Mac and tried to open a Reunion 10 report with it you've seen an error like this: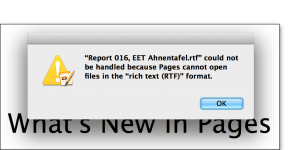 This happens because Apple didn't include support for opening rich text format (RTF) files in the new version of Pages and Reunion creates RTF files.
There are a couple ways to work around this problem. First, you could set your Word Processor in Reunion 10 to Text Edit, then copy and paste reports from Text Edit to an new Pages document. That's a lot of steps though.
The second option is to use the previous version of Pages (from iWork '09). Fortunately Apple now includes it with the new pages installs and updates so you probably already have it. for Pages 5 upgraders. If you acquired Pages 5 without upgrading see my comment below this article to learn how to get Reunion 10 reports into a Pages 5 document.
Follow along with this video to see how to find the previous version of Pages on your Mac, how to open Reunion 10 reports in this version of Pages, and how to get your reports into the new version of Pages if desired.