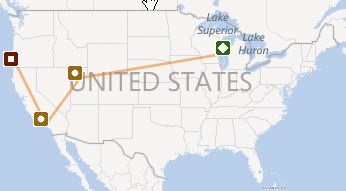 A migration map shows the movement of a person over their lifetime. They can help you better understand the person's life story, uncover clues, and make your research look more interesting.
Displaying a migration map is easy with Family Tree Maker. Unfortunately the genealogy software doesn't make it easy to add migration maps to a book. That's the kind of problem I like to solve for you.
3 Simple Steps
I invested some time over the weekend and created a simple, three-step method you can use to add a lovely map to your family history books in FTM. Basically you do these three things:
Create a migration map
Link the map to a person
Add the map to a book
Creating a Migration Map
You may need an image editing program to accomplish step one. It depends on how you capture the image. You can capture an image of your whole screen with a keystroke. If you do that you'll need to crop the image to just the interesting part with an editing program. The other option is to use a screen grab program to save just the interesting part of the screen. That's what I do in the attached videos. It saves a step and time that you can best use for research and storytelling.
Once saved, linking the image is a simple.
Getting the Map Into a Book
There's a trick to getting the map into a book. It's not an option to add one directly like a report or chart. You've got two ways you can choose from. First, you can add the linked image by adding a media item report. Second, you can add a text item (a Smart Story in Family Tree Maker 2012) then insert the map in it. Try each of them to see which you prefer.
After following along with the accompanying video matching your version of FTM, you'll be able to quickly and easily create, link, and add migration maps to genealogy books.
FTM 2012 Video
FTMM2 Video