Today I received from Software MacKiev a newsletter entitled, "Family Tree Maker News — Mac Edition." I've copied it below in its entirety.
From: Family Tree Maker
Subject: FAMILY TREE MAKER News – Mac Edition
Date: September 25, 2016 at 11:37:01 AM CDT

Greetings!
A word from your (very happy) publisher.
After six years as the developer of the Mac editions of Family Tree Maker, we have been having the time of our lives taking over for Ancestry as publisher of the most popular family history software of all time. Having already launched updated Mac and Windows editions (FTM 2014.1 and Mac 3.1), we are working every day to make them even faster and friendlier, and happily getting acquainted with our many new friends in the genealogy world.
macOS Sierra is here and we're ready!
Apple's new macOS Sierra (10.12) just arrived a few days ago. If you're thinking of installing it on your Mac and are running FTM Mac 3 or 3.1, well go right ahead. They're perfectly compatible. Those with FTM Mac 1 or Mac 2 though, will want to consider upgrading to FTM Mac 3 first – or staying with their current OS – because those older editions are not completely compatible with Sierra. If you decide to upgrade, you can purchase FTM Mac 3.1 for just $29.95 (vs. $69.95 regularly). You can get the discount by signing up for the FTM Mailing List at www.familytreemaker.com, or by clicking here.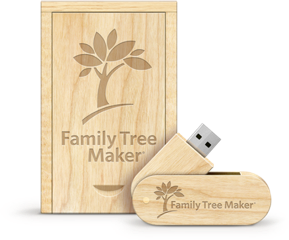 FTM appears in a flash!
Let's face it – fewer and fewer Macs have disc drives these days. MacBooks haven't had them for years. So we've created a distinctive alternative to CD's for FTM Mac users. Our new 4GB FTM flash drive, made of natural wood, comes with a copy of the latest edition of FTM Mac 3.1 on it, ready to install. For those moving from Win to Mac or just from one Mac to another, we've also included 2GB of storage space and our FTM Moving Kit that provides everything you need to open any FTM tree file ever created – all the way back to files from version 1.0 that came on floppy discs in 1989. The flash drive costs $14 plus $5.95 shipping (so $19.95 total). If you already have FTM 3 or 3.1 and you'd like an FTM flash drive to call your own, just visit the Replacement Center (see below) to order.
The Replacement Center is open.
We get requests every day from FTM users for replacement copies. Sometimes it's because they've had a hard drive crash and need to reinstall. Or they're just moving to a new computer and have lost their installation disc. Whatever the reason, our new Replacement Center is there to help. It's entirely online and open 24/7 so FTM Mac 3 users can get a new link emailed to them day or night, 365 days a year. Without having to beg. Or even explain why they want it. And isn't that really how it ought to work anyway?
Getting to the Replacement Center
1. Go to support.familytreemaker.com
2. Click "for additional assistance" at the bottom of the page.
3. Click the Replacement Center tile.
What about those free updates for Mac 3 users?
As you may have heard, we've been hard at work on a free stability and performance update for FTM Mac 3 users. So when will it be released? As soon as our trusted beta testers tell us it's ready. In the meantime, if like most users, your copy of FTM is working fine, then please just be patient a little longer. But if FTM Mac 3 is crashing, or you have a very large tree that's slowing FTM down to a snail's pace, go get a copy of FTM Mac 3.1 right away at the FTM Replacement Center.  Or if you prefer to wait for the final release, just make sure you're signed up for the FTM Mailing List at www.familytreemaker.com, and we'll let you know the moment it's available.
Discounted upgrades from older editions.
For a limited time, anyone who has FTM Mac 1 or Mac 2 can get an upgrade to version FTM Mac 3.1 for just $29.95 (vs. $69.95 regular price) by clicking here. They'll get a full free–standing installer for one computer, so they won't need to worry if they don't still have their old edition installed or if they're moving to a new computer. And they'll also have a chance to purchase a backup CD for $10 or our natural wood USB flash drive for $14 when they order (plus $5.95 for shipping and handling).
We'd love to hear from you.
We have set up a number of links at www.familytreemaker.com for you. Stop by to suggest a feature you'd like to see, or report a bug. Or sign up for our FTM mailing list if you haven't already, and let us know what you'd like to hear about — from free updates and upgrade offers to group discounts and genealogy technology news. You will also find an FAQ answering the most common questions we're getting, and a feedback form to tell us, well, anything you think we ought to know.
It's a new era for Family Tree Maker, and we're awfully glad that Ancestry chose us to take it from here!
JACK
Jack Minsky
President
Software MacKiev
***
Family Tree Maker
HELPFUL LINKS
© 2016 The Software MacKiev Company.  Family Tree Maker is a registered trademark of The Software MacKiev Company.  Ancestry.com and TreeSync are registered trademarks of Ancestry.com Operations, Inc.
***
To be removed from future Family Tree Maker emails, just reply to this email with 'unsubscribe' in the subject line.
Software MacKiev: P.O. Box 130410, Boston, MA 02113–0008, USA