I opened Family Tree Maker (FTM) for Mac 3 today and found an update waiting for me. The version number was 22.2.3 (I had 22.2.1, so I guess I missed one). Here are the update notes:
This update includes the following new features and enhancements:
Mac OS X 10.10 Yosemite specific bug fixes
Duplicate person alert
Manage (add, edit, delete) historical facts
Application Name change to "Family Tree Maker 3"
Task List Report – New Custom options
Print Plan workspace tasks as filtered/sorted in display
Fan Chart – New options (full circle, semi-circle, quarter, etc.)
Pedigree chart – New option to include spouses of primary individual
Relationship chart – Option to use short place names
Outline descendant report – Option to list only direct-line descendants
Option to omit home country in charts/reports
Allow bookmarking of spouse
LDS ordinance display in the family view
LDS ordinance – Include initiatory and confirmation
Numerous other bug fixes
I'm happy to see that Ancestry.com is still developing and improving FTM3. I have found it much more stable than the previous version, but it's still missing a few features that the Windows version has, and there are a few minor irritations yet. I wonder if the name change signifies anything? After all, version 3 files are cross-platform compatible.
When I clicked the button to update, I noticed that FTM3 closed and backed up automatically, as usual. If you do the update (which you probably should if you plan to upgrade to Yosemite), you should also make sure you have a current backup. I was then asked if I wanted to retain the current file and convert a copy (Figure 1).
I picked this option, even though I had a backup, because auto-backups are overwritten every time you close FTM. A few seconds later my file was converted and my tree opened. Immediately the media started processing again (Figure 2).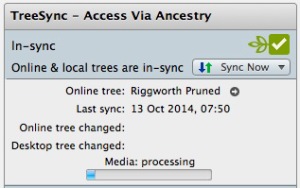 This seems to happen almost every time I open my tree whether new media completed processing the last time or not. Processing seemed to take longer than usual this time, and when it was finished, I received a message that 134 media had not completed due to a process error (Figure 3).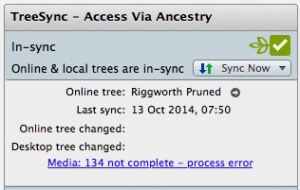 I clicked the link  and they tried to process again, but I was still left with the error. So I closed and reopened FTM3, the media processed again, and this time I got the "Media Complete" message (Figure 4). Hopefully this will work for you, too, if you receive the process error.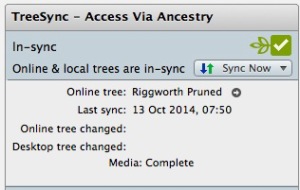 OK, I'm off to try out some of the new features and will write more about them at a later date. Please leave a comment if you have any issues with the update (in addition to contacting Ancestry Support, of course).