It's been over two years (24 Oct 2011 on Amazon) since Ancestry.com released version 2 of Family Tree Maker (FTM) for Mac. Ancestry.com, and the developer of FTM for both Mac and Windows, Nova Development, spent most of 2013 improving the then-current versions rather than releasing a paid upgrade. I applaud them for their decision, given the many problems with version 2012, especially its TreeSync™ feature, which enabled changes made in FTM trees to be synced with their Ancestry.com counterparts and vice versa. Ancestry.com released the 2014 version of FTM on 10 Sep 2013, but Mac users had to wait a little longer. Like the new Windows version, version 3 for Mac includes enhancements and new features, including an improved TreeSync™, a new Family View, user interface updates, task simplification, and new and enhanced reports. In fact, with a few notable exceptions, the Mac and Windows versions have moved more closely together in terms of feature parity and even price. These improvements address most of the complaints I had in my review of version 2. This review updates my previous review, and I now can recommend FTM for Mac.
Upgrading from a Previous Version
Before you even install and open version 3, I highly encourage you to backup your existing FTM file, if you don't routinely do so. Version 3 uses a different file format and will convert your old files to the new format when you open them. In fact, version 3 uses the same format as version 2014 for Windows, so they are now compatible with each other. Version 2014 for Windows users no longer need to use the file migration utility when you send them your FTM file. When I opened my existing FTMM2 file, the application offered to make a backup before converting, but I think it's a better idea to use the tried and tested version 2 to make your backup. FTM also offered to link my file to my Ancestry tree, an offer I accepted. All of this proceeded fairly smoothly; after the file was converted, a "Media: processing" progress bar appeared (fig. 1), and then a notification that 1 media file was missing appeared (fig. 2).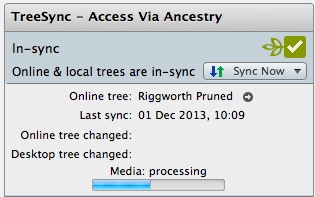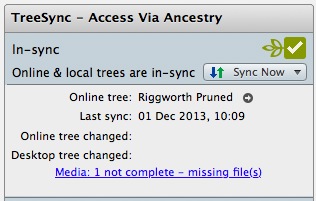 This was a valid message, as I must have accidentally deleted the original file.
Feature Parity with Windows Version
As I noted above, one of my biggest complaints with version 2 was the lack of feature parity with the Windows version, despite costing up to 75% more. I'm happy to report that the Mac version has drawn almost even with the Windows version–with a few notable exceptions. Version 3 for Mac now includes Unicode support, hint syncing, export of media to GEDCOM files, and most of the same reports as the Windows version. However, there are still at least two features that are missing from the Mac version:
1. Smart Stories: As the Ancestry Help page explains, "Smart Stories is a narrative tool that can help you record family stories quickly by selecting facts, sources, and notes you've already entered in your tree; then you can drag and drop them into a special text item called a smart story. And best of all, smart story text is linked to your tree. So if you find out that Grandpa's birth date is different than you thought, you can change it in your tree and the text will be updated automatically." Why can't this feature be included for the Mac version?
2. Plugins: Plugins are tools that 3rd party developers can provide for exporting FTM data. To my knowledge there are no plugins available yet, although at least one is in development. Again, why can't this feature be included in the Mac version?
As a user, I'd like to see feature parity between the Windows and Mac versions of FTM so I only have to use the Mac version instead of having to run the Windows version from Bootcamp, Parallels, VMWare, or VirtualBox to use a feature I need. In addition, the Mac version is still a 32-bit application, while the Windows version is now 64-bit. The Ancestry.com Blog even highlighted this fact: "New 64-bit support (this is something our customers have been really wanting on the PC". Well, guess what? Ancestry customers really want it on the Mac, too! Mac OS X has supported 64-bit applications since 10.5 Leopard, and most modern applications are now 64-bit. 64-bit applications generally run better on 64-bit systems, and, according to Wikipedia, the x86-64 instruction set "supports vastly larger amounts of virtual memory and physical memory than is possible on its predecessors, allowing programs to store larger amounts of data in memory". Previous versions of FTM for Mac have been CPU and memory hogs and also prone to frequent crashes. In its defense, version 3 seems to play more nicely with system resources, rarely exceeding 100% of CPU or 400 MB of memory.
Pet Peeves and Previous Problems
The previous versions of FTM for Mac enabled users to merge two files, using an algorithm to match people they had in common. In the Merge Wizard you can set the match threshold on a scale of 0 to 1000 (fig. 3), with a threshold of 0 meaning no similarity and 1000 meaning much similarity (200 is the minimum).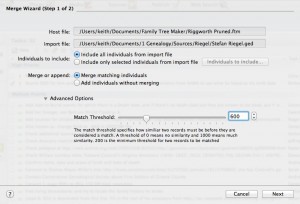 I would have expected scores above 600 to have at least some similarity, but that has not been the case in the past. Unfortunately, there appear to have been no improvements to the match people algorithm in version 3. Using a host file of about 3,500 people and an import file of about 1,800 people with the match threshold set to 600, FTM found 25 people that were valid matches, all having a match score of 990 or 1000. There were a further 280 people who were flagged as possible matches. These possible matches ranged in score from 400 (even though I had set the minimum at 600) to 1000. The matches with a score between 990 and 1000 were all valid, and it seems like they should have been marked to be merged. On the other hand, none of the matches below 990 were valid and were, in fact, way out of the ballpark. Here are some examples:
| | | |
| --- | --- | --- |
| Score | Host | Import |
| 630 | Marian Rundel | Nicola-Marianne Haser |
| 800 | Anne Unknown | Baerbel Gliese |
| 600 | Stewart Allen | Johann Adam Riegel |
| 844 | Henry Conkle | Wilfried Metzger |
| 881 | Roger Lane | Josef Heume |
| 875 | Johnny Lee Abernathy | Jacob Riegel |
The only one that is remotely similar is the first one, where there is a similarity between "Marian" and "Marianne." All the rest are useless, and with over 250 of them to go through, it was quite tedious to click the "Do Not Merge These People" button that many times (fig. 4).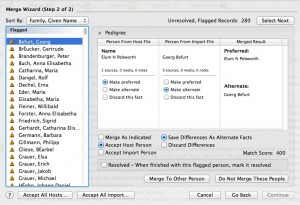 The algorithm that is used to determine possible matches appears to be faulty if only scores over 989 are even close to matching.  As a user, I expect to be presented mainly with viable matches, so either the algorithm needs to be fixed, or only offer matches with a score of 990 and better.
Another pet peeve of mine is how past versions of FTM handle AKAs in GEDCOM files. FTMM3 (and all previous versions) exports the "Also Known As" fact using the ALIA tag in GEDCOM files. According to the GEDCOM 5.5 specification, this is incorrect. In GEDCOM 5.5 and the later draft versions, the ALIA tag is "An indicator to link different record descriptions of a person who may be the same person." It should conform to the structure, ALIA @<XREF:INDI>@. FTM does not use it this way; FTM uses it as a personal attribute for a nickname or AKA within the same record, such as Jack Smith for John Smith, not a cross-reference from one record to another. There is no tag for AKA in the GEDCOM 5.5 standard (probably because it expects alternate names to be contained in different NAME records). FTM should use a user-defined tag beginning with the underscore character (_), just as it does with the Military Service field and other fields. I suggest using _AKA so it's not confused with the standard ALIA tag. Although some other genealogy applications are able to import the ALIA tag in GEDCOM files created by FTM, not all do. In order to conform with the current standard (as old as it is), FTM should not abuse the ALIA tag.
Another problem in past versions that has carried over into version 3 is that there is significant lag when editing media details. When editing media details like Caption, Date, or Description from the Collection pane of the Media workspace, the app is extremely laggy. I can type fairly quickly, but there is a significant lag between my keystrokes and when the characters show up on the screen. The program also hangs for up to a minute  (beach ball spins) at other times, like when renaming a media file. This has also been a problem in FTMM2 (although it wasn't always; it just showed up sometime in the past year). Editing media details from the Detail pane of the Media workspace, the Media tab of the Person workspace, and the media tab of a Source citation are not a problem.
FTM allows users to find and merge Ancestry.com record information in their tree, to include source citations for the record. On the Summary screen of the Web Merge Wizard, there is an option to edit the Source-Citation to be added. After clicking the Edit button, there is an option to choose a different Source title. After clicking this button, all of the source titles in the database are presented, but they are not in alphabetical order (fig. 5), which makes it very difficult to find the correct source title.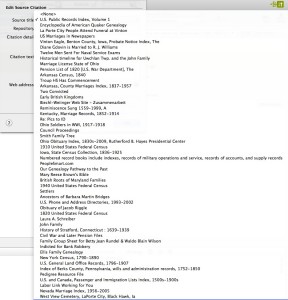 How hard can it be to change the software so that it sorts the source titles alphabetically? That way users can find them more easily. I submitted this request to Ancestry Support in Oct 2012 and was told, "The problem has been reported to our developers and hopefully will be corrected in the near future." It still has not been corrected in version 3. Source Titles under the "Source Citation Information" drop-down box on the right-hand side of the Sources workspace are also not alphabetized. They should be so users can easily find the one they want. Users who carefully document their sources and put them in proper bibliographic format (such as Evidence Explained) will find this very frustrating. I have almost 700 sources in my main tree; scrolling through a list of them in random order is a waste of my time.
One problem that I've written about before is the Sync Validation Failed error. Sometimes the sync button changes to an exclamation point in a triangle. Clicking this button brings up a window that says, "Sync Validation Failed. It appears that the online tree has been deleted. Online tree name:" (fig. 6).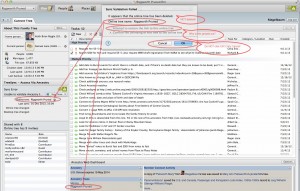 This error  occurs even though my online tree has not been deleted and is still linked to my FTMM3 tree, as can be seen in the lower right-hand corner of the screenshot where it says under the Web Dashboard, "Ancestry Trees, Riegelbaum Pruned." Also notice in the screenshot that there are two options: Attempt to restore the link to this online tree (which is grayed out), or Confirm the unlinking of this tree to the online tree. From past experience with FTMM2, I know that I should NOT click the "OK" button. The first time I got this error, I did, and of course FTMM2 dutifully unlinked my tree with my Ancestry tree, and I spent hours uploading it again. I have found an easy workaround until Ancestry fixes this bug: click the "Cancel" button, close FTMM3 and reopen it. You will see the normal sync button again and should be able to sync your tree, barring any other problems. I reported this sync validation error bug to Ancestry.com Support on several occasions and they finally said, "We've forwarded your feedback on to our developers for consideration on the next version of the program." This is a fairly serious defect (even though there is a workaround, which most people probably don't know about), and it appears not to have been resolved yet.
Now with all of these pet peeves and problems that haven't been addressed, you might think that I still don't recommend FTM for Mac 3, but they're really rather minor in the grand scheme of things. Most of them have workarounds or don't affect my workflow that much. Given that FTMM3 is almost on par with FTM 2014 for Windows, to include the same regular price of $39.99 for the basic version, I do recommend FTM for Mac 3, especially for Mac users who have Ancestry.com accounts and like to keep their FTM and Ancestry trees in sync or easily search Ancestry's collections from FTM. FTMM3 is on sale now for $29.99. Click here to get it while it's on sale!
In my next post, I will review some of the new and improved features of FTMM3, like the new Family View™ and improved TreeSync™.