In the first part of my review of Family Tree Maker for Mac (FTMM) 3 I noted that the application now has virtual feature and price parity with the Windows version. I also covered some of the problems from previous versions that have carried over into the latest version. In this, the second half of my review, I'll go over what Ancestry.com touts as the new and improved features.
The first new feature is a FamilyView™ that combines a graphical pedigree and a descendant chart (fig. 1).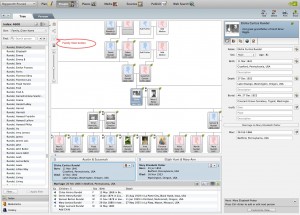 It's much like the family view on Ancestry.com. This view is accessed from the People Workspace by clicking the "Family view" button to the upper left of the tree. You might notice that the interface is a little more colorful with the change from gray silhouettes to blue and pink. The FamilyView can be a good way to get an overall idea of both ancestors and descendants of a person, but personally I find using it to navigate through families or locate a specific person to be cumbersome. I usually prefer to use the index for this purpose. The good thing about the FamilyView in FTM, compared to Ancestry.com, is that it includes both the family group sheet for a family, as well as individual data (which can be customized), so you can easily make changes without navigating to other screens. What do you use the FamilyView for?
The next touted new feature is a tree branch export. As the name suggests, this feature exports an entire branch of your tree, including both ancestors and descendants of a selected person, to either a new FTM or GEDCOM file. The feature can be accessed in several ways, to include the drop-down menu on the People button or by right- (control-) clicking on the person whose branch you want to export (fig. 2).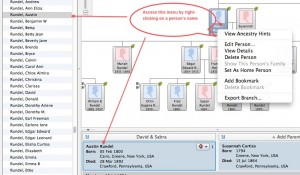 You'll then be guided through a wizard to ensure you have selected the person you want, whether you want to include media, tasks, and private facts, and the output file format. The process works fairly well and is a quick way to export an entire branch, say, for a distant relative, but there's no fine control over how many generations to export, whether to include all spouses, etc. The only thing that didn't work perfectly was that the category for two stories did not get carried over to the new file.
Another new feature is the option to sort children automatically by birth order. This can be a handy tool, since otherwise children are sorted in the order they're entered, unless you've manually sorted them. The feature can be found in the Tools menu (fig. 3).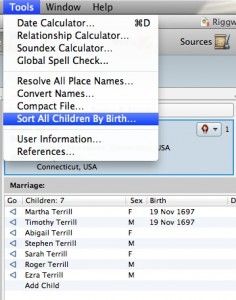 You're given the option to make a backup first, which is a good idea. The feature seems to work perfectly, and another good thing is that, for people without a birthdate, it doesn't change their birth order (other than to put them below any children with birthdates). However, if you manually entered children by order of birth, you might not want to use this feature.
An additional new feature is the option to view people by location, grouping them by country, state, county, and city in the Places Workspace (fig. 4).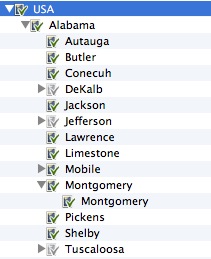 Previous versions also had the option of viewing people by location, but what's different in version 3 is the nested folder structure of place names. This works well for modern place names that exist in FTM's place names authority, but unlike some other genealogy software, FTM does not recognize historical place names. Places names that aren't in FTM's database are not hierarchically organized but are simply sorted alphabetically (fig. 5).

Personally, I find it a bit cumbersome to look for place names in both the hierarchical structure and the straight alphabetical structure. For example, I must look for Tulpehocken, Pennsylvania, alphabetically in the Ts because, historically, it was in Lancaster County, and under USA > Pennsylvania > Berks County, its current county. I wish FTM would group all place names hierarchically.
FTMM 3 also includes a few new reports and several enhancements to existing reports. The new reports are:
List of Individuals Report—includes options for index, anniversary, birthday, and contact list reports (fig. 6). They are found under the "Person Reports."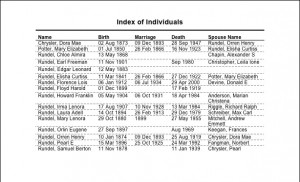 Family View Report—includes a person's ancestors and family in one report (fig. 7). It is found under "Relationship Reports."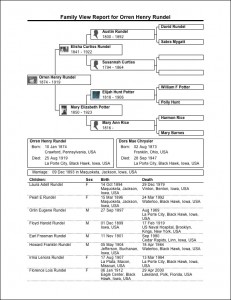 Undocumented Facts Report—includes facts without source citations (fig. 8). It is found under "Source Reports."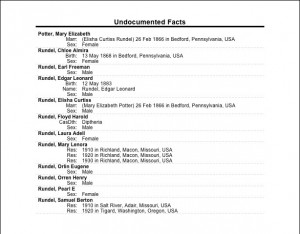 These can all be useful reports. It's good that they include the option to filter people into or out of a report according to specific criteria. I especially like the Undocumented Facts report, which I can use to fill in holes in my documentation. I also like the Family View Report, which is a sort of graphical family group sheet. While not obvious, the Index of Individuals sorts people alphabetically when the "Sort by" box is not checked (fig. 9). Are there any reports or charts that you think are missing from FTM?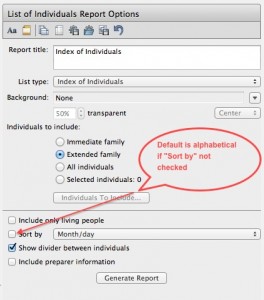 The report enhancements are:
Custom fact sentences associated with each fact.
Bow Tie Chart—option to include siblings of the primary individual.
Kinship Report—option to sort by relationship.
Descendant Chart—option to show the direct line between an ancestor and one descendant.
Data Errors Report—option to include only preferred facts.
Data Errors Report—option to include/exclude invalid dates.
Media Item Report—option to include/exclude media notes.
Media Item Report—option to include/exclude media links.
Photo Album—Improved space recovery when including/excluding date & description.
Documented Facts Report—option to include/exclude citation notes.
Documented Facts Report—option to include only preferred facts.
Ability to exclude empty nodes in charts & recoup space.
New Extended Family Option in Some Reports—filters the report to include all immediate family or extended family.
A significant improvement to FTMM 3 is that TreeSync™ now syncs the following items between your FTM file and a linked Ancestry.com tree: Source templates, Person research notes, Fact notes, Media notes, Media filenames, Media categories, Relationship notes, and Relationship media. You will not be able to see these items in your Ancestry tree, so I call them invisible items. This a a very good enhancement because now you can use Ancestry.com as an almost complete backup of your FTM tree. I say "almost" because Tasks are not included in this list, and I use the tasks to help me plan and organize my research. If I were to lose my FTM file and didn't have another backup copy, it would be impossible for me to recreate all my tasks. Also, I found figuring out how to restore the invisible synced items a little difficult. Because an Ancestry tree can be linked to only one FTM file at a time, basically what you would have to do if you ever needed to restore it is first unlink your Ancestry tree from FTM. Then when you download the tree from Ancestry into FTM, make sure the "Link to Ancestry" box is checked (fig. 10). This should ensure that all the invisible items are restored to your FTM file.

Other enhancements include the ability to copy and paste facts including linked source citations, media items, and notes. Also, if you have multiple versions of the same fact, you can merge them without losing any information. These are great time-saving features, and they really work. Another real enhancement is the ability to attach an existing person from the add person dialog. The Detach Person dialog has also been made simpler and more flexible. Finally, there have been several cosmetic changes to the Plan Workspace (the one you first see when opening FTM).
All in all, the new and enhanced features of FTMM 3, which bring it almost in line with the Windows version, make it well worth the lowered price of $29.99 ($27.99 for upgraders) in the Ancestry shop
(as of this writing). If Ancestry can fix the problems I highlighted in the first half of this review, it will be a very pleasant genealogy application to work with, especially for users who like the convenience of linking their FTM tree to their Ancestry account and being able to work on it almost anywhere (don't forget about their Android and iOS apps).