Most Family Tree Maker for Mac 2 (FTMM2) users are probably familiar with the Sync Error (Figure 1).

I've noticed this bug occur less often over the past year as Ancestry.com and the developer of FTMM2, Nova Development, have worked to fix the bugs. However, about 6 months ago I started seeing a new kind of Sync Error. The first warning sign was that the sync button changed to an exclamation point in a triangle (Figure 2).

Clicking this button brought up a window that said, "Sync Validation Failed. It appears that the online tree has been deleted. Online tree name: Riggworth Pruned" (Figure 3).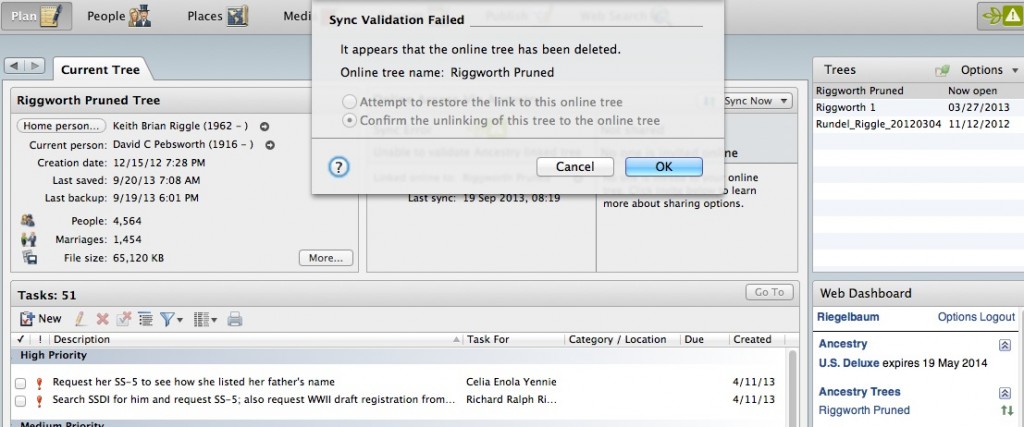 This error sometimes occurred randomly, and sometimes it happened after my WiFi connection dropped out. It occurred even though my online tree had not been deleted and was still linked to my FTMM2 tree, as can be seen in the lower right-hand corner of Figure 3 where it says under the Web Dashboard, "Ancestry Trees, Riggworth Pruned."
Also notice in Figure 3 that there are two options: Attempt to restore the link to this online tree (which is grayed out), or Confirm the unlinking of this tree to the online tree. Do NOT click the "OK" button! The first time I got this error, I did, and of course FTMM2 dutifully unlinked my tree with my Ancestry tree, and I spent hours uploading it again. I have found an easy workaround until Ancestry fixes this bug: click the "Cancel" button, close FTMM2 and reopen it. You will see the normal sync button again and should be able to sync your tree, barring any other problems.
I reported this sync validation error bug to Ancestry.com Support and received the following response: "We apologize for your frustration. The update [Version 21.2.7.542] took out the tree sync between the two trees. That's certainly not what was supposed to happen, but it is a possibility, and that's what happened to your trees. You'll want to either upload the Family Tree Maker tree or download it from Ancestry again to reinitiate the tree sync. Thank you for your patience."
The sync validation error is still occurring for me, so obviously there is still a bug in Version 21.2.7.542, since no other updates have been released since then. Ancestry has already released the latest version of FTM for Windows, version 2014, and their website states that the Mac version is coming soon. Let's hope that they fix this and all the other bugs AND bring feature parity to the new Mac version. FTM 2014 for Windows includes several new features–will these features be included in the Mac version? Will the Mac version include missing features like Unicode support, Smart Stories, hint sync, and export of media to GEDCOM files? Or will they continue to expect Mac users to pay more than twice as much for an inferior product?
I'm curious to know, how many readers who are users of FTMM2 have also experienced the sync validation error? Please let us know in the comments.