Fewer Features for More Money
Introduction
Family Tree Maker for Mac (FTMM), released in late 2010, was the first Mac version of the best-selling genealogy software released by Ancestry.com
(hereafter referred to as Ancestry). The only previous version for Mac was Family Tree Maker Deluxe Edition II for Macintosh, released by Brøderbund in 1997. There have been reviews of FTMM (see, for example, this review at PC Advisor UK), but many people want to know if version 2 is worth buying or not.
TreeSync
Prior to the release of FTMM2, the feature I wanted most but didn't get from FTMM was the ability to sync with my family tree at Ancestry, so when Ancestry announced they would include this feature, which they call TreeSync, in FTM 2012 and FTMM2, I was very excited. In a comment to one of Ben's posts on this website, I said, "if the Mac version includes this, it will be worth buying, although it would be nice if FTM adopted price parity as well as feature parity." Now that I've used FTMM2 for two months, I've been able to evaluate whether the TreeSync feature meets my expectations. I've also compiled a detailed list of the pros and cons of the product. Bottom line: TreeSync is great in concept but lacking in implementation.
To start with, not all data sync between FTM (both Mac & Windows) and Ancestry, and Ancestry even says so in their help pages. Here's a summary of the most important things that don't sync:
Audio and video items
Research, fact, relationship, media, and source citation notes
Shortened display names for locations or custom GPS coordinates
Media items attached to sources (but media items attached to source citations will)
Comments, web links and the contents of your shoebox
In addition to the items that Ancestry warns you about, tree hints, tasks, and member connections are also not synced. To me, one of the biggest drawbacks to FTMM2 is that hints do not sync with Ancestry. Even if you accept or reject hints in FTM, they will still show up on Ancestry, or vice versa. Essentially this means you should choose whether to review hints on Ancestry or FTM and ignore the other hints, but don't use both. Otherwise, you will end up with duplicate facts, sources, and even people.
However, as much as I would like hints to sync, what I would really like is for TreeSync to work consistently. All too often I receive a sync error while uploading changes to Ancestry. Ancestry even offers a whole help page devoted to TreeSync troubleshooting steps for FTMM2. I have tried all of them, spending days to re-upload and link my tree to Ancestry, and usually can get sync working again for a few days, until the sync error starts popping up again. Furthermore, because of the things that don't sync to begin with, some of Ancestry's troubleshooting suggestions are not viable. For example, they suggest uploading your tree to Ancestry without linking and then downloading the tree from Ancestry with linking. If you do this, however, you will lose everything that doesn't sync. You could try to merge the tree with your existing FTMM2 tree, but my experience is that FTMM2 will crash when trying to merge a lot of records (I have over 22,000 people in my tree).
I reached a point where my tree would no longer sync, so I had to unlink it from Ancestry and re-upload it. When I did, all the media items I had added from other trees lost their connections to those trees—i.e., I could no longer tell where the items came from. The source was lost. It goes without saying that this is very bad.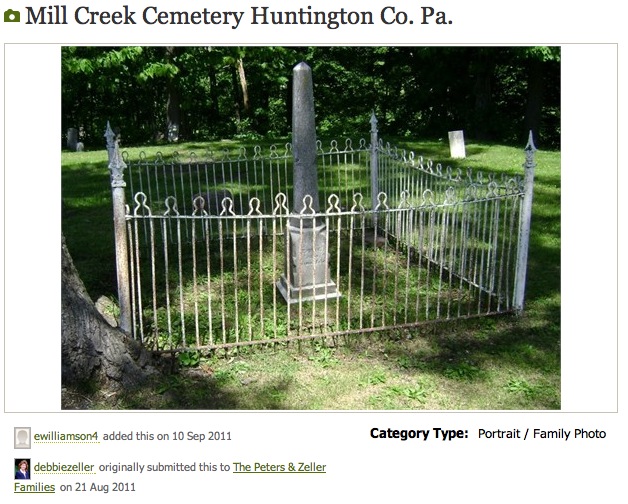 Figure 1 shows what the media information should look like on Ancestry, while Figure 2 shows what it looks like after re-uploading the tree from FTMM2 to Ancestry.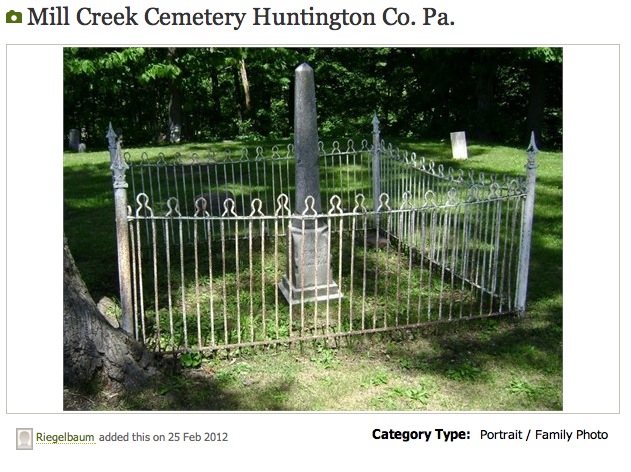 Now I can't tell that "debbiezeller originally submitted this to The Peters & Zeller Families on 21 Aug 2011." This is poor documentation practice. But there's no way I can track down where I got every media item now.
People Workspace
OK, enough about TreeSync. What about the other features of FTMM2? Starting with the basics, adding or editing data in the People workspace is fairly easy, and I like how FTM lets you set preferred facts, if you have more than one date of birth, for example. Copying and pasting source citations from one fact to another is also very easy. Fastfields for names, sources, and places are good; these can auto complete names that have already been entered as you type the first few letters. Another nice feature: if you type a title or AKA in the name find, you can set FTM to move them to the appropriate title or AKA field, which saves you from having to manually add those fields.
However, adding people who don't have a last name or whose last name you don't know can be problematic if you don't use "NN," "unknown," "???," etc. If you leave the surname blank, FTM will automatically put the first name in the surname field when you first enter it. Then you have to edit the name and put two backslashes (\\) after it; this will move the first name back into the first name field and leave the surname field blank.
Places Workspace
FTM includes a place names database called the place authority to help ensure place names are spelled correctly and consistently. It covers the entire world, so it must be quite large and obviously can't include every place-name, including historical names. Figure 3 is a screenshot of a place-name and a map showing its location from Bing maps; note the place-name warning icon.

In this example, Alberene, Albermarle County, Virginia, shows up in Bing Maps, but it's not in the place authority. Perhaps Ancestry should look into getting their place authority from Bing Maps? It also doesn't initially use words like "township" or "county," although you can add them as you add new place names. If you include the administrative division, like "county," you will probably get the ? icon indicating you need to resolve the place-name. You can either replace the place-name with the one in the place authority or click on the Ignore button, in which case the warning will go away. In addition, if you add people by accepting hints on Ancestry, all the place names will be added to the database, even if they already exist, resulting in numerous duplicates. For example, I have "Baltimore County, Maryland, USA," listed seven times in my places database. It is possible to merge them, but it's an arduous process of going through and merging two places at a time, with each merge requiring the click of a confirmation button and then a long spinning of the beach ball, sometimes followed by a program crash. And doing so is not error free. I have numerous people where the place name got completely deleted from their events when I merged the names. I still don't know what happened, although it's possible FTM crashed in the middle of a merge (that happened a lot). In addition, sometimes when I click on one name to resolve a place, FTM changes it to something else entirely. Fortunately you can undo these errors, if you catch them in time. There are also some outright errors in the places authority, which is not surprising; for example, Iowa City, Iowa, is listed in Wright County, when it should be Johnson County.
Media Workspace

Adding a media item to FTM is easy; you can add a media item to a person, a fact, or a source either from the People, Media, or Sources workspace. Finding a specific media item again, however, is not so easy. There's no way to search for it from the media workspace. You can't even press a key to be taken to media starting with that letter. You can only scroll through the items, which means you have to remember what you named or captioned it. When you have a lot of media, that can be difficult. A workaround is to filter the list of individuals from the Family tab by words that might be in the name of the media item, as shown in Figure 4. Then you just have to find a fact the media item is attached to. Ancestry needs to add a way to search for media from the media tab or when linking to existing media.
The Media viewer in FTM is fine for photos but is not ideal for book or document images: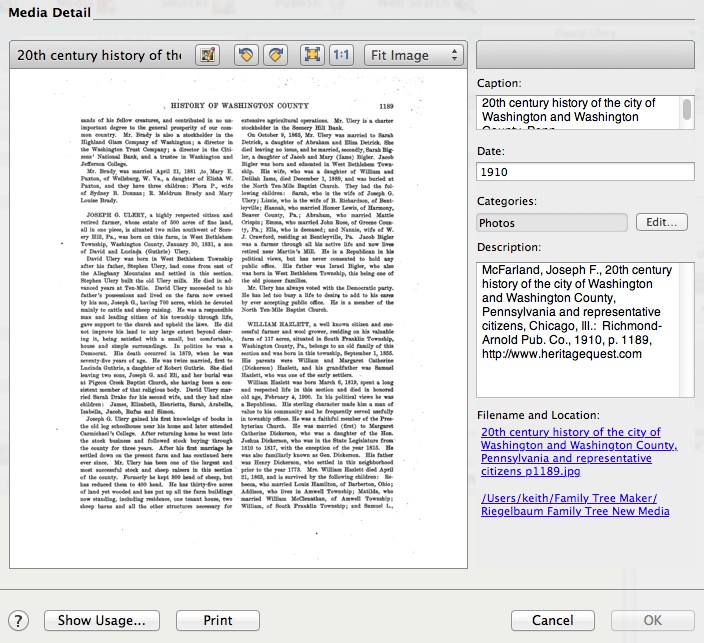 I can't even begin to read this. The default zoom is too low and the default window size is too small, so I have to click several extra times to view these images. Fortunately, it's easy enough to click on the filename from the media tab or viewer and open images from the viewer of your choice, but Ancestry needs to work on a better viewer that automatically zooms according to the resolution of the image.
Sources Workspace
Sources and citations are easy to enter. Unfortunately, sometimes the citations that Ancestry adds when accepting hints are garbage, inconsistent, incomplete, or redundant. For example, here are two different source citations, one for the 1900 US census, and one for the 1910:
Ancestry.com, 1900 United States Federal Census (Online publication – Provo, UT, USA: Ancestry.com Operations Inc, 2004.Original data – United States of America, Bureau of the Census. Twelfth Census of the United States, 1900. Washington, D.C.: National Archives and Records Administration, 1900. T623, 18), Database online. Year: 1900; Census Place: Amity, Livingston, Illinois; Roll: T623_318; Page: 12B; Enumeration District: 91. Record for Ebenezer Perry.
Ancestry.com, 1910 United States Federal Census (Online publication – Provo, UT, USA: Ancestry.comOperations Inc, 2006.Original data – Thirteenth Census of the United States, 1910 (NARA microfilm publication T624, 1,178 rolls). Records of the Bureau of the Census, Record Group 29. National Archives, Was), Year: 1910;
Census Place: Hunter, Choctaw, Oklahoma; Roll: ; Page: ; Enumeration District: ; Image:.
Birth date: 1895
Birth place: Arkansas
Residence date: 1910
Residence place: Hunter, Choctaw, Oklahoma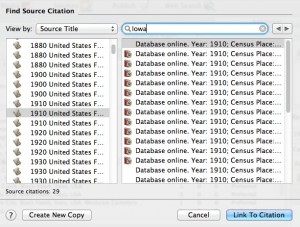 "Ancestry.com" is listed twice in both, and "online" is listed twice in the 1910 entry. They are in different formats, and  1900 includes the Roll, Page, and Enumeration District numbers but 1910 does not.
Also, imagine trying to link to a citation and trying to find it in the little window shown in Figure 6. Which citation is the one I want? The search box at the top does not work to find the one you need, there's no slider bar at the bottom of the window to see the rest of the citations, and the window can't be enlarged. [You can hover your mouse cursor over the displayed portion of a source name. After a short delay you'll see the entire source name in a little bubble.] The only viable option in this case is first to find the source citation you want in the Source Workspace and then link from it to the fact you want.
One thing I like is how, if a source citation came from Ancestry, you can click on a hyperlink in the Edit Source Citation window to be taken back to the source.
Publish Workspace
FTMM2 includes a good variety of pedigree and descendant charts & reports. Both can be customized, saved, printed, or exported to different formats. Notably, FTM lack the ability to create web pages for your family tree, probably because they want you to save your tree on Ancestry. In addition, FTMM2 is lacking some reports that are included in FTM 2012 for Windows: ancestor narrative, descendant narrative, index of individuals, and surname index. These would be really nice to have in FTMM2, and it's a mystery to me why they are not. Lastly, FTMM2 lacks a nice feature of the Windows version called Smart Stories, which are the FTM 2012 equivalent of creating a story on Ancestry. In FTMM2 there is no way to create a story at all. You have to add a document file as a media item. On Ancestry you can either upload a file containing the story or type it in using a form. If you do the former, the file will simply be downloaded as a media item to FTM. If you do the latter, the story will be downloaded as an HTML page. So you should think about how you want to handle stories. It's not trivial to edit an HTML page or a PDF, so it might be best to put all your stories in a .doc, .rtf, or .txt file. Personally, I think plain text is best, but of course there isn't any formatting. I also think Ancestry should include a story entry form in FTMM2 like there is in FTM 2012 and on Ancestry so that entering and editing stories is seamless among the three.
Web Search Workspace
Searching Ancestry from FTM is pretty much like searching directly from the website. You can also search Rootsweb, Genealogy.com, Google, Yahoo, Bing, or any other site you wish to add. You can merge results from Ancestry directly with your tree (more about that shortly). Other results you can copy and paste. One good thing about FTM is that you can get tree and record hints from Ancestry within it. Another good thing is that when you accept hints, you can control which fields have the hint added as a source; you can also accept the hint without actually changing the data in your tree, or you can add the hint as alternate information. One thing that does not work is if you accept a hint and decide to discard the existing fact; FTM gives you the option of keeping the existing sources, but if you discard the fact, in actuality, it also discards the sources.

Figure 7 shows an existing death fact with its source citation from Brøderbund, Figure 8 shows the option to discard the fact but keep the existing sources, and Figure 9 shows the fact after the merge.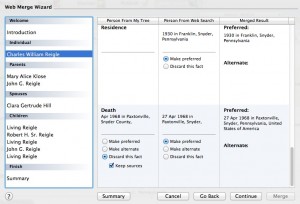 The Brøderbund source is gone; the only source listed is the new one from the merge. So my advice until Ancestry fixes this bug is to tick the "Make alternate" bubble, copy the original source citation to the fact you want to keep after the merge, and then delete the alternate fact that you no longer need. Another drawback of accepting hints in FTM is that you must review hints one at a time, unlike Ancestry, which allows you to review all tree hints at once. This isn't always a bad thing, since there's a lower chance of introducing garbage into your tree if there's a lot of conflicting information, but if there's lot's of agreement, it can be very time-consuming.
Fig 9 Existing sources after discarding fact
One nice feature of accepting hints in FTM is that you can either add the source media, if there are any, or not. This is in contrast to Ancestry where if you accept hints, it always adds the source media, whether you want them or not. Furthermore, when accepting hints from family trees on Ancestry, a source citation is added only to the name field, whereas in FTM you can add source citations for all facts that you add or change.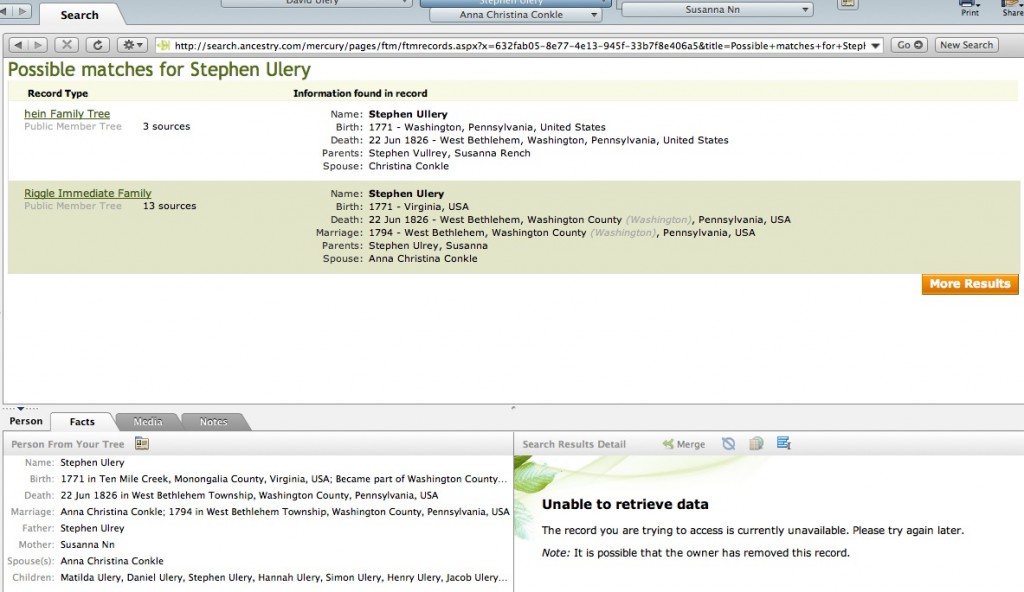 Occasionally I will click on a result from Ancestry in the upper window but the details refuse to load in the lower window. Figure 10 shows what I'm referring to. Sometimes this is because the tree has been removed from Ancestry but is still in the index; at other times the tree is private; and then again, sometimes there doesn't seem to be a reason, but if I close and restart FTM, the results will show. Then there are the totally bogus matches. Let's say I'm searching for John Doe, an American male born in 1800. Often times one of the hints I get is totally off base, like Gertruitha Steinbeck, a German female born in 1500. Why is Ancestry giving me this as a potential match? Usually the hints are pretty good, though. Sometimes all I have to do is type in the name, and as long as there is a relationship to another person, Ancestry will immediately find valid matches for that person.
Tools
One of the most important requirements of genealogy software is ability to find information. However, searching within FTMM2 is limited compared to, for example, Reunion 9 for Macintosh. From the Edit | Find & Replace menu, you can search in Facts, Notes, Sources, Media, Tasks, and Places, but unlike Reunion, you can't drill down to a specific type of fact, like Name, Date of Birth, Research Note, etc. If I need to do a search of all people who were born in Illinois between certain dates, I need use the filter feature, explained below, or export my file to a GEDCOM, import it into Reunion, and do the search there. You can do wildcard searches in FTM, but you can't search for blank (null or empty) fields from this menu.
You can also search for a person, place, or source (but not media) from their respective workspaces, but this type of search is not as robust as it could be. You must type at least the first few letters of the name (first or last, depending on how you've sorted them), place, or source to find them. If your spelling is off, you will not find them that way (you'll have to use the Find and Replace feature from the Edit menu, or do a filtered search from the Index, described next). On Ancestry, at least finding a person in my tree is incredibly easy; I only have to type any part of the name, and all the names that match it will pop up in a list, along with birth and death dates, allowing me to select the one I want. Why can't FTM have this feature?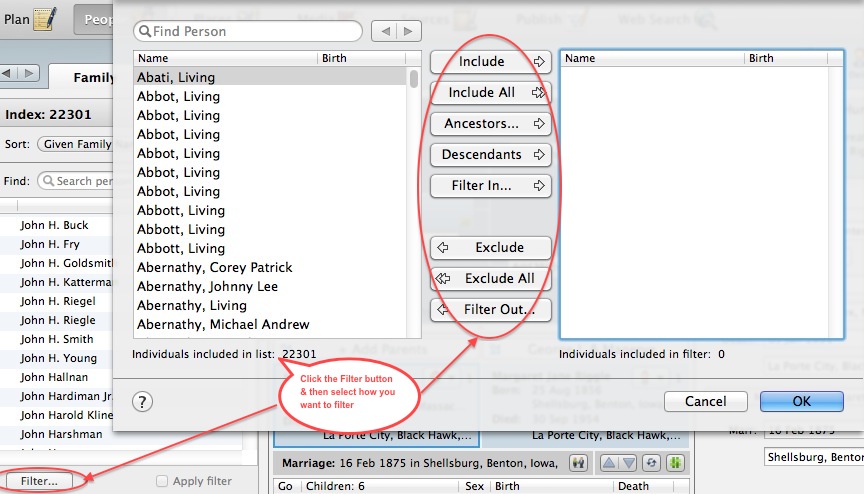 A third way of searching that I've found is using the Filter feature from the index on the Family tab of the People workspace, as seen in Figure 11. Using the Filter In or Filter Out buttons, you can search on almost any field in your tree (but not notes), to include searching for blank fields (see Figure 12). While this is better than the simple search from the Index or Find & Replace, it's still not as powerful as a search you can do in Reunion because, for one thing, you can filter only one condition at a time. You can add more filter conditions, and depending on whether you filter in or filter out, they have the effect of AND or OR conditions in boolean terms. So, for example, you can filter in people born in Illinois and then filter out people born after 1900, assuming you want to look at only those born before. While you can do this for as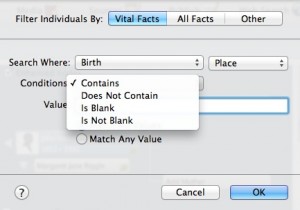 many fact types as there are (except notes), it's awkward and time-consuming, and you really have to think about whether you should filter in or out. Furthermore, in Reunion, you can save lists of your found people in either rich text or tab-delimited plain text format. The latter you could then import into a spreadsheet for additional analysis, if you wanted to. In FTMM2, you can do this only from certain reports where you can filter individuals in or out, such as the Custom Report and the Data Errors Report.
FTMM2 has basic error checking tools like warnings for unlikely dates or double dates and a duplicate person finder; there's even a Data Errors report that can find basic errors, like children with birth dates before their parents. There's a tool for merging two people and another one for merging two files. The people merge works fine, and the file merge worked for merging a small GEDCOM into my main file, but when I tried to merge my Ancestry tree with my FTM tree (because TreeSync failed), well, the merge failed, also. It progressed to a certain point and then FTM crashed (more about that momentarily). Otherwise, FTMM2 is lacking in management tools. For example, Reunion comes with several preset reports, such as people without parents, spouses, or children. FTMM2 provides only the Data Errors report mentioned above.
A final tool in Reunion that I find invaluable is the ability to mark people based on almost any criterion that exists in your tree, like fact fields, relationships, or other attributes, like duplicate fields. There is no easy way to flag, tag, or otherwise mark people in FTMM2, and certainly no way to do it based on conditions. You could create a custom fact labeled "Mark," for example, but you would have to update it manually. This would not be very feasible or useful.
GEDCOM Issues
As Nigel Bufton Software states, "GEDCOM compliance is not important for users who are comfortable with being 'locked-in' to the methodology and non-standard data capabilities of a particular genealogy program, but it is very important for those users who require the ability to transfer data freely between different genealogy products, websites, and utility programs, with maximum reliability and data integrity." There is absolutely no reason to include the ability to export a family tree to GEDCOM if the resulting file is not compliant with the latest standard (5.5.1). If the file doesn't use tags properly, then wherever else it's used, data will be misinterpreted or, more likely, ignored. I found that a GEDCOM file exported from FTMM2 has some compliance issues; out of 33,000 records, 5,000 of them produced an error or warning when I ran it through a GEDCOM validator. These are the major problems I found. Not all GEDCOM 5.5 or 5.5.1 tags are included in FTMM2, and there is no option to add them. User defined facts are lumped into the EVEN tag, whether there is a standard GEDCOM tag for them or not. The ALIA tag is used incorrectly; it's used in place of the NICK tag, but it should contain a link referring to another individual, who may be the same person. It allows data in description fields for facts like birth and death that should only have a "Y," which means the event occurred. While some other genealogy programs, including Reunion, will import the contents of the description field into a memo or note field, not all will, so this information will be lost. Sometimes data is simply missing from the GEDCOM; I found this especially to be true with notes.
General Issues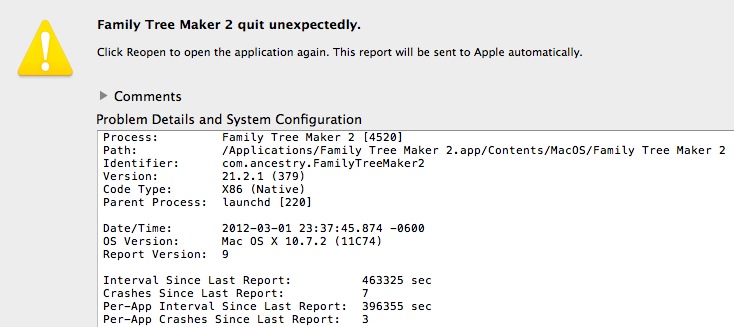 Figure 13 shows a message you would probably see a lot when using FTMM2, especially when doing something resource intensive, like trying to merge two large files or generate a report of all people in a large file. I don't know what constitutes a large file, but I have over 22,000 people in my file [I consider that a large file], and FTM hangs and crashes a lot. I try not to run too many apps at once when using FTMM2, because it always uses the most resources of any of my apps. For example, right now it's just sitting open not doing anything but is still using 500MB of real memory and another 500MB of virtual memory. If I do something like run a report with everyone in it, that goes up to 1GB and 2GB, respectively, and I've seen FTMM2 use over 100% of CPU. In any case, if FTMM2 crashes on you, be sure to compact your file from the Tools menu to try to fix any errors.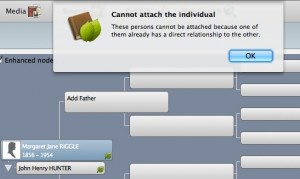 FTM is also just downright buggy. Sometimes I click on a person and it doesn't show his or her parents, even though they're connected. I know they're attached to each other, because if I try to attach them again, I get an error message, as shown in Figure 14. The only way I can get the parents to show up is to disconnect and reconnect them.
Features in FTM 2012 for Windows Missing in FTM for Mac 2
Would you pay more for one version of an app that has fewer features than another version? That's what Ancestry expects Mac users to do. The Windows download version retails for $39.99 from the Ancestry online shop, while the Mac version retails for $69.99. According to Ben, the following features are in the Windows version but not the Mac version: Unicode support; ancestor narrative, descendant narrative, index of individuals, and surname reports; and online data import (Mac genealogy software feature comparison). As I noted above, the Mac version also lacks the Smart Story and hint sync features. The Windows version also exports media to GEDCOM files, while the Mac version still does not. In addition to feature inequality, the FTMM2 and FTM 2012 file formats are incompatible with each other. That is, FTM for Mac cannot open FTM for Windows files, and vice versa. To me, this is incomprehensible. The FTMM2 installation CD does come with a FTM Migration Utility that enables you to transfer files between Windows and Mac versions, but the utility runs only in Windows. So if I want to send my FTM file to my dad, a Windows user, I also have to send him the conversion utility.
Summary
Pros:
Tight integration with Ancestry, to include searching and merging hints
Ability to set preferred facts
Ease of copying and pasting source citations
Fastfields for names, sources, and places
Hyperlinks to Ancestry source citations in the source citation window
Good variety of pedigree and descendant charts & reports
Cons:
Frequent hangs and crashes; buggy
TreeSync does not work consistently, nor does it sync hints, member connections, or tasks
Loss of media sources that originated from Ancestry member trees when re-uploading a tree to Ancestry
Adding people without a last name is problematic if you don't use "unknown," etc.
Place authority is limited and doesn't recognize place names with administrative division words like "county" in them
Search functions and management tools aren't as robust as other apps
Missing features that FTM 2012 has, especially Stories, hint syncing, and export of media to GEDCOM files
Costs 75% more than the Windows version
Final Verdict: Family Tree Maker for Mac 2
should still be in beta testing and is not ready for prime time; it's certainly not worth paying 75% more than the Windows version. It's ridiculous that Ancestry charges Mac users such a premium for an inferior product. Granted, the Mac user base is much smaller, and normally they would be willing to pay a premium, but only for superior products (like the Mac, iPad, or iPhone). Until Ancestry fixes the bugs, especially with TreeSync, and provides the same feature set as the Windows version, I cannot recommend FTMM2.
Note: I provided a draft of this article to Ancestry.com for a fact check, and they did not dispute anything I said.
Product names, logos, brands, and other trademarks featured or referred to herein are the property of their respective trademark holders.