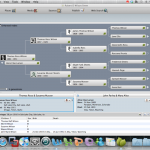 Ancestry.com has announced they will be releasing their genealogy software, Family Tree Maker 2010, on the Mac platform later this year.
I welcome the return of the software. It signals the growing importance of the Mac platform to genealogists and the competition is much needed.
The features touted on their web site are:
Integration with Ancestry.com — Easily add records and images from Ancestry.com and import your Ancestry.com family tree, along with attached photos.
Family books, charts and reports — Publish beautiful keepsakes and books to share with friends and family.
Slideshows — Create slideshows from photos in your tree.
Standard source templates — Cite the right information every time.
Family migration paths — View timelines and interactive maps highlighting events and places in your ancestors' lives.