This week I had been contributing to a thread on the ReunionTalk forum about the wish to be able to link multimedia to events and citations. Some of my posts are disappearing shortly after I enter them!
In response to a specific question I provided details about how Reunion's citation feature is limited in comparison to what the GEDCOM standard and other leading genealogy software support. I also pointed out that due to Reunion not supporting multimedia and quality assessments linked to citations, that data is discarded without warning, when one imports a GEDCOM.
After posting in the thread I viewed my post in context so I know it was there. A couple hours later I went back to see if there was a response and found my post had mysteriously disappeared!
I used my browser history to try to return to the page where I previously reviewed my post. Here's what I got: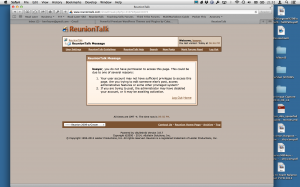 It looked to me like the post had been hidden or removed!
I didn't want to leave the original question unanswered so I wrote another followup post to the tread. This time I made a screenshot showing the post appearing after submission: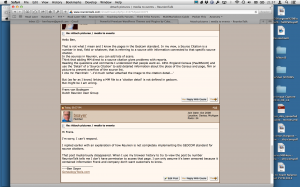 Within minutes this post too disappeared!
It appeared that anything I posted pointing out deficiencies in Reunion or censorship of posts was being removed.
I was interested in helping to improve Reunion even though I stopped using it—primarily because of the deficiencies I was describing in the posts that went missing. I can only conclude that Leister Productions, Inc. doesn't want constructive criticism on their forum. While I respect their right to control what is being published on their website I also avoid wasting my time.
I tell you all this because I want you to know two things:
1. You won't be seeing anything new from me on ReunionTalk
2. You aren't getting all sides of discussions on ReunionTalk