While preparing my review of MacFamily Tree 7, I ran across an article on their website, "Switch from Family Tree Maker to MacFamilyTree and import your family tree." The section headed "Attention: Media file import" caught my attention. I don't agree with Synium's statement, "Unfortunately the developers of Family Tree Maker made the very poor choice of not importing media files but just linking them. Just Family Tree Maker knows where these files are and there are just links to those media files." I disagree on several counts:
When a family tree is saved to GEDCOM, the only way for media to be exported is by including the links to them anyway—GEDCOM did away with embedded binary objects in version 5.5.1 (the latest standard).
When a GEDCOM file is imported by another app, it should be able to read the media file links, regardless of the location of the files.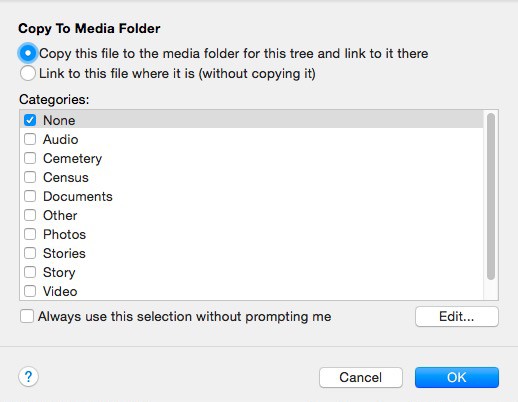 It is true that FTM offers the option of linking to the files where they are when imported or copy them to the media folder for the tree (see the example). The best practice might be to copy them all to the media folder for the tree; this is a folder that begins with the family tree's name and ends with "Media." Usually it's inside the "Family Tree Maker" folder. But some people may have reasons for not using the media folder—maybe they want to organize their media files in a certain way.
In any case, MacFamily Tree expects all the media files to be in the same folder, and it's probably not the only application to do so. Having all the media files in the same folder makes it easier to change the file links as described in my article, "Part 3: Importing Your FTM Tree into RootsMagic 7." So the bottom line is that the steps described in the MacFamily Tree article are necessary for FTM users who have media files in different folders and want to transfer their family tree to MacFamily Tree, RootsMagic, and possible other apps.
The Family Tree Maker Alternatives Series