The tree view in Mac genealogy software Reunion 10 replaces the overview window from previous versions. The purpose remains the same. It's a graphical way to navigate your family tree. It looks sharp and feels natural!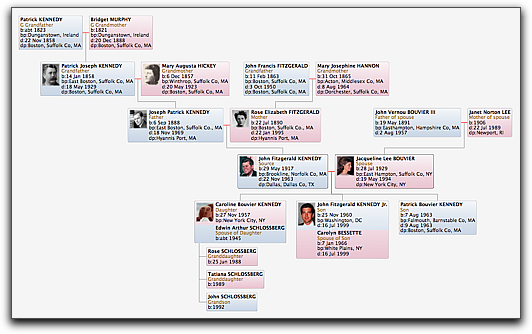 After you follow along with the accompanying video, you'll be able to:
Switch between pedigree and hourglass modes
Scroll the tree view
Select the person or couple in the starting box any of six ways
Return to the family view
Switch to the tree view using the navbar and keyboard shortcuts
Zoom in and out
Share a high-resolution image of the tree view via email, print, or copy and paste
Change the number of generations displayed in pedigree and hourglass modes
Toggle display of pictures, places, and relationships in the view
Hide and display the sidebar
By the way, I goofed in the video when I remarked that Reunion can't create hourglass charts. It can and has been able to since Reunion 9.[1] I didn't know that when I recorded the video. It just goes to show that there are capabilities, sometimes buried, that we are missing out on.
Notes
[1] I think the hourglass in the tree view more attractive than the chart.