The overview window in Reunion 9 for Mac makes navigating a family file quick no matter how large. It also provides a fast way to examine relationships elsewhere in the family file without leaving the current family card. There is even a hidden chart type available from this view!
The overview window makes navigating a family file a breeze by displaying a simple, interactive, 5 generation, pedigree chart like the one below.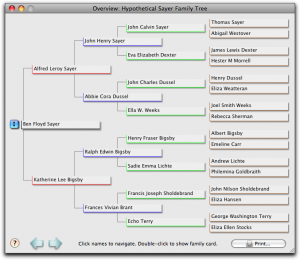 What makes it interactive is that each person on the chart is displayed as a sort of button that can be clicked to change your location in the tree or double-clicked to cause Reunion 9 to display that person's family card.
Relationships can be swiftly explored in this view by using a popup menu that lists the person's spouse(s) and associated children. There's even a way to see this popup menu (shown below) for anyone on the chart, but it isn't obvious. Watch the video to see how it's done.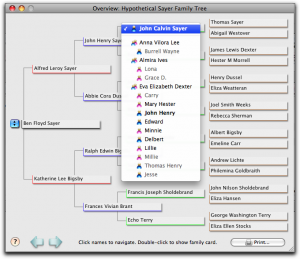 Every feature and function of the overview window is demonstrated in this video from the MacGenealogist Archives, Overview Window in Reunion 9. In it I show you how to use the overview window in Reunion 9 for Mac to navigate your family file, explore relationships, and generate the hidden, one-page pedigree chart.