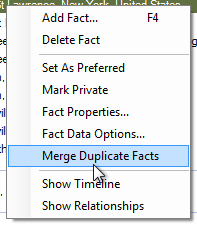 Occasionally in Family Tree Maker 2012 you're going to end up with duplicate facts. Actually, it will happen with any genealogy software; it's not a situation peculiar to FTM.
What You Need to Know
Duplicate facts can appear up in your file by mistake and perhaps even from problems with TreeSync. I don't have any hard evidence of that, I simply know from my experience with computers and programming that it's possible. It doesn't really matter why the duplicates are in there anyway. If you want them gone Family Tree Maker can help you merge them.[1]