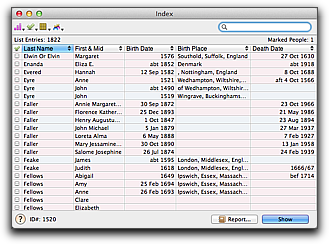 The index feature in Reunion 9 for Mac software presents a list of person records in your family file. It is useful for navigating your genealogy tree, linking people, marking people for operations like reporting and deletion, and is an initial step for creating an index of individuals report.
All of these functions are enhanced by the ability to modify the columns displayed in the index. In particular, finding an intended individual is easier when sufficient information is present to differentiate similar records.
Reunion enables you to add, remove, and change the order of columns. You can add a column then tell the software what to display in it.
By default the index displays names, birth date, and birth place. These are usually sufficient to distinguish one individual from another. It's also helpful to see the death date as well.
[Read more…]