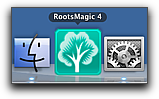 Last week there was a post on the RootsMagic blog about running RootsMagic 4 on a Mac. I've had this topic on my list of future videos for a while and this post pushed it to the top.
As the post says, there are a few options for running RootsMagic on your Mac. You can use a virtual PC program like Parallels Desktop or VMware Fusion, but those require you to buy and install a copy of Windows. Another option is to use the Windows emulator called Wine. I prefer a re-packaged version of Wine produced by CodeWeavers, called CrossOver Mac. It's much easier to install! For only $39.95 you can run some Windows applications like RootsMagic on your Mac without the expense of Windows.
If you've wanted to run RootsMagic or are interested in checking out this fantastic genealogy software on your Mac, download the RootsMagic trial version and CrossOver Mac trial version, then follow along with this video which walks you through the fifteen minute installation of CrossOver Mac and RootsMagic 4.