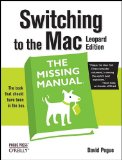 No, this book isn't written for big, spotted, felines. It's for people who have switched from Windows to the Macintosh or are curious about doing so. Leopard is the friendly name (unless you are afraid of cats) for the operating system. This friendly, book will help switchers and their genealogy and other files make the transition to the Mac.
Much of the content is duplicated from another book in David Pogue's Missing Manual series, Mac OS X Leopard: The Missing Manual
. That's okay because this book presents the information differently and adds to it, making it a great choice for switchers. If you already own the Leopard Missing Manual you'll want to skip this one. If not, have a look at this list of chapter titles to get a glimpse of the comprehensiveness of its coverage:
How the Mac is Different
Folders, Docks, & Windows
Files, Icons, & Spotlight
Documents, Programs, & Spaces
Eight Ways to Transfer Your Files
Transferring Your Email and Contacts
Special Software, Special Problems
Windows on Macintosh
Hardware on the Mac
Internet Setup
Mail & Address Book
Safari & iChat
Accounts, Parental Controls, & Security
Networking, File Sharing, & Screen Sharing
System Preferences
The Free Programs
Installation & Troubleshooting
Appendix: The "Where'd It Go?" Dictionary
The first printing of the book contains some small typographical errors. Fortunately, the publisher's website provides a list of errata. Checking the list and making notes in the book should mitigate the problem.
Regardless of the typos, the book provides just the right coverage of the topic in a witty, readable style. I recommend Swiching to the Mac
to Windows emigrants. Have a look even if it's been a while since you switched. You will likely find information and tips that improve your efficiency so you have more time for family history research.