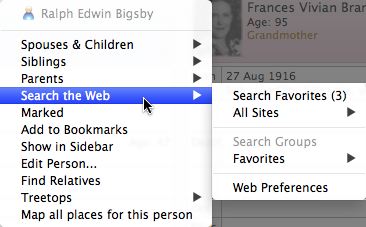 A new maintenance release is available for Reunion 10. Besides a slew of fixes, this version includes an overhaul of the web search feature.
The choices on the context menu that appears when you select Search the Web on a person button has been rearranged for efficiency. Search Favorites now appears at the top. You can also search custom groups of sites–a feature introduced in this release.
The preference pane for web search received an overhaul to support creation of custom groups as well as editing the same and the favorites group.
Finally, there's a button on the Web Preferences pane that you can use to update search sites similarly to the way you can check for updates to the whole application.
I updated the original article on this topic, Using Reunion to Search the Web, and re-recorded the video.