Details about RootsMagic 7*
Application: RootsMagic
Current Version: 7
Supported OS: Windows, Mac (bundled with CrossOver)
Mobile Apps: iPhone/iPad/iPod touch, Android
Price: Free (Essentials), $29.95 (full), Free (mobile apps)
Publisher: RootsMagic
Website: http://www.rootsmagic.com
GenSoftReviews: 4.61 stars out of 5

Important Updates
15 Mar 2016: RootsMagic has released another important update, version 7.1. This update enables the direct import of nearly every Family Tree Maker (FTM) file, including the latest versions (3.1 for Mac and 2014.1 for Windows). Directly importing a FTM file will avoid most of the problems with importing a GEDCOM. However, the problems with importing sources still exist. Sources imported from a FTM file are still imported as Free-form Text, regardless of whether the sources contain title, author, and publication data fields. The only fields that aren't imported into free-form text are the repository, call number, and comments. All the problems discussed below with importing and exporting GEDCOM files remain.
31 Dec 2015: RootsMagic just released version 7.0.10 yesterday which fixes several issues with importing FTM GEDCOM files. For the time being I've struck through the portions of my review that no longer apply thanks to this update. I applaud RootsMagic for going out of their way to accommodate FTM users and improve their flagship product (even over the holidays). I wish all genealogy software developers would do this. RM still has a few problems with importing GEDCOMs (not just from FTM). It also incorrectly exports some data in GEDCOMs. I've added my new findings to the Update section below.
Steps to Import a GEDCOM file into RootsMagic (RM) 7 (Windows & Mac)
1. Mac version only: Since RM is a Windows app dressed in Mac clothes, it looks for file paths in Windows format, but this is easy to fix, as long as all your media files are in the same folder (which is the default). If they're not all in the same folder, first follow the steps in the article, "Switch from Family Tree Maker to MacFamilyTree and import your family tree" under the heading "Attention: Media file import." The following steps refer to Fig 1

a. Open your GEDCOM file in a plain text editor like TextEdit
b. Copy the file path, including all forward slashes (/) but without the file name, and do a Find on it
c. Check the "Replace" box and paste the file path into the Replace with field but don't click Replace yet
d. Add Y: to the beginning of the file path, delete "Users\Username" (change Username to your own) and change all forward slashes to backslashes (\). (Do not put in an extra backslash after Y:\, as shown in Fig 1.)
e. Click the Replace button for each instance, or the All button if you're sure the only instances are in multimedia records (most likely the case), and then click Done
2. After opening RM and going through the welcome windows, click Import a file from a different program (Fig 2)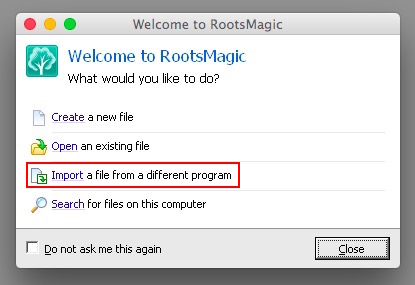 3. Select GEDCOM and click the button I know where the file is (Fig 3)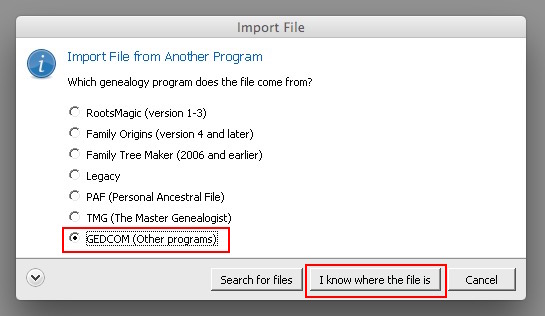 4. Give your new RM file a name and select a location if other than the default. Mac users may especially want to change the file location because the default is normally a hidden folder (~Library) (Fig 4)
5. Choose the GEDCOM import options. Name and address can be left blank (Fig 5)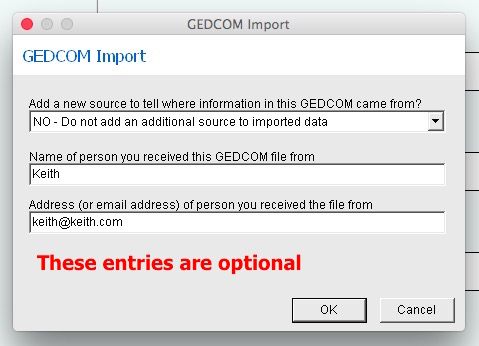 6. Find the file with the same name as your GEDCOM file, in the same directory, but with the LST extension; it may have a different icon than shown (Fig 6). Open the LST file in a text editor like Notepad (Windows) or TextEdit (Mac)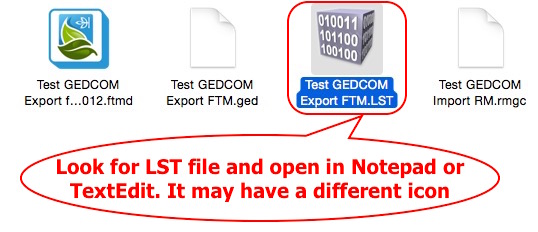 7. The LST file is a GEDCOM import error log. Review the errors so you can take corrective action
Version Tested: RootsMagic 7.0.10 for Mac (most comments should also apply to the Windows version, since the Mac version is the same; it's just bundled with CrossOver)
PROS
+ The first time you import a GEDCOM file, a GEDCOM Import Log is produced. But see Cons. Lists problems as "Unknown info" and refers to the line number in the file (not to be confused with the hierarchy level number).
+ Successfully imports almost all FTM custom fields: Degree, Military Service, and Secondary Name (as facts), Father and Mother Relationship (on Family screen), and Medical Condition (as note). While not required for a destination app to interpret user-defined fields from other apps, RM even correctly spells out MDCL and MILT. A bonus is that RM even imports FTM's improper use of the ALIA tag as an Alt Name.
+ Successfully imports sources on all facts except one on Name (see Cons).
+ After running the app for a while I got a notice that there was an update available. Since I'm using the Mac version, which is the Windows version in a CrossOver wrapper, I was concerned that the update might not work, but it worked seamlessly.
+ Uses SQLite for its database, allowing you to do operations directly on the database if you know what you're doing.
CONS
– When RM is finished importing a GEDCOM file, it does not tell you it produces an import log. It's in the Help file, but you must know to look for it. An app should tell you an import log was produced, where it's located, and ideally open it for you.
– Fails to import most some custom fields and does not warn the user that they will be discarded:
CIRC Circumcision
DCAUSE Cause of Death
DEST Destination
DNA DNA
ELEC Election
EMPLOY Employment
EXCM Excommunication
FUN Funeral
HEIG Height
WEIG Weight
INIT Initiatory (LDS)
JUST Justification (used for source citation quality)
NAMS Namesake
MILTID Military Serial Number
MISN Mission (LDS)
ORDI Ordinance
ORIG Origin
SEPR Separation
If you want to keep the data in any of these fields, you should go back to Part 1 of this series and change them to notes or your own custom facts. Otherwise, you will have to reenter all of this data by hand.
– Imports illegal contents of Fact Description fields from FTM but stores them in a location that seems to be inaccessible to the user (Fig 7). If anyone knows how to access this data, please let me know. Update: Thanks to reader ve3meo for pointing out that the illegal description can be revealed via Lists > Fact Type List, select the appropriate fact, and check the box beside "Use Description". This is not intuitive. Even the much-maligned FTM has an Options button right on every fact to turn on or off the date, place, and/or description.

– Fails to import the PHON, EMAIL, and WWW tags unless they're illegally contained at a level directly subordinate to the INDIvidual record, even though they're in the 5.5.1 standard (p. 31) and my GEDCOM was marked as such. RM claims to support version 5.5.1.
– Fails to import tag REFN (user reference number) on family records, even though it's allowed in the 5.5.1 standard (p. 24).
– Fails to import the CHAN.DATE (change date) tags from media records, even though they're permitted by the 5.5.1 standard (pp. 26, 31).
– Fails to import the FACT tag, even though it was added to the 5.5.1 standard. FTM doesn't use this tag, so as long as you don't change any EVEN tags to FACT, as I formerly suggested in Replacing FTM Part 2, you should be fine.
– Failed to import 1 of 2 sources on a personal name. For the source it did import, it failed to import the source citation and the media, notes, and quality ratings that are attached to them.
– Interprets the numerical quality rating in the QUAY tag in a unique way rather than just listing the number. For example, it interpreted the number 2 as "Secondary."
– Dumps all source record information (author, title, publication data) into a free-form field. This is also basically how it exports the information, so it loses any distinction among the original pieces of data. This may be unacceptable to many users.
– Exports the Place Details field to GEDCOM using tag ADDR subordinate to the corresponding event. While this isn't wrong, a Note Structure subordinate to the place field would be better. Thanks to Randy Seaver for inadvertently highlighting this problem. (Added 28 Jan 2016) Update 29 Apr 2016: Now RM exports Place Details to both the ADDR tag and to a Note subordinate to ADDR; I guess they're trying to cover all bases.
How to Find and Repair Problems in Your GEDCOM File
The RootsMagic LST file identifies "unknown info" by line number. To go to a line number:
Mac TextEdit – Press the CMD-L keys and enter the line number (Fig 8)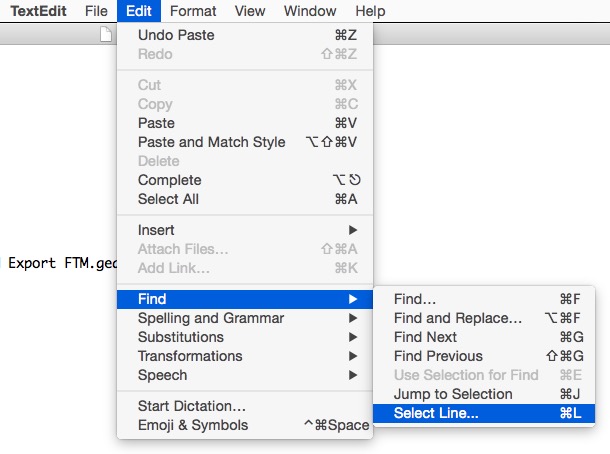 Windows – Use an advanced text editor like Notepad++ and it should display line numbers automatically
First Impressions
The opening screen is similar to FTM, with an Index and Pedigree view. Unlike FTM, there doesn't seem to be a way to sort by given name in the Index.
Mac-specific: the default fonts appear a bit thin on a Mac. I changed them in the Program Options (Display) to Helvetica Bold, which I was happier with. However, even with this change, there are some display artifacts on some fact forms of the Edit Person window (Fig 9).

Fig 9 Fonts displayed incorrectly on Mac

On the Edit Source window, the Page Number box is way too small (Fig 10). FTM uses the Citation Detail box to capture more than just the page number; it's used to store all data that don't go into the source record itself or the citation text. Update 1: It appears RM took my suggestion below and is now importing data from the PAGE tag into the Research Notes field where it's easier to read and edit. This may be fine as a short-term solution, but for the long term, RM should just make the Page Number box bigger; there appears to be enough real estate available to do so. Update 2: Reader VaISG says, "You can stretch the window wider and the box will stretch with it. Alternatively, click the upper right corner 'middle' button for expanding the whole window, just like it does for any other window in Windows. Your details box will now be almost the width of your screen, literally, "at the touch of a button". . . . I've wished for several years now that Bruce would have RM remember the last viewing size of the source box and the event note box, like FTM & Legacy do. Annoying it is when you work heavily in notes and heavily source your research and have to click to stretch or click to expand the window every single time." I would still point out that while the box can be made wider, it can't be made any taller, even though there's plenty of real estate to do so. I would like it to be as tall as the boxes for Research Notes or Comments. And I agree, it would be nice if RM "remembered" the last window size. Also, for Mac users, the method to enlarge the window is a little different: we use the green button at the top left to go full screen, or option-click the green button to maximize without going full screen.

Fig 10 Page Number box too small

The interface doesn't seem as user-friendly as I'm used to with FTM. The buttons are smaller, and some of them, as well as the menu, are not intuitive to me.
Most of my pros and cons focus on GEDCOM import, but there are some serious problems there, especially the combining of source information into a free-form field.
I will continue to evaluate RM and update this review in about 30 days.
Note on my test GEDCOM file: This is a small file containing 7 people, 3 marriages (including 1 to a non-existent spouse), 1 adoption, 2 media files, and 2 sources (including one using a template). However, I used every available field in FTM, including at least 1 of every kind of note field.
Fixing broken media links: Thanks to reader Carty Ellis for the following tip: "I copied the media file FTM 3 for the Mac (generated when I generated the GEDCOM file) to a file called "RootsMagic". I also copied the GEDCOM to that folder. After importing the GEDCOM, I went to lists>media gallery>tools>fixBrokenLinks. When the window came up, I chose the folder location instead of search functions, chose the folder containing my media file – subfolder to RootsMagic and choose it. It took about 20+ minutes to process my 4800+ people in my tree, but there were the multimedia items." Please note that this is a premium feature that doesn't work in RM Essentials, but Mac users especially could use it to avoid having to take Step 1 listed above before importing their GEDCOM file. Assuming they're willing to buy RM7.
Comparing the data you imported to your original GEDCOM: Tim Forsythe, the developer of GigaTrees and VGedX, recommends the following: "when importing your clean GEDCOM file into a new program, besides checking import logs and doing cursory examinations, you immediately, before making ANY edits, export a GEDCOM file from the new program and compare it to the imported version using some sort of difference checker. Additional problems can be detected this way that may not show up in an import log." This is an excellent suggestion. I use DiffMerge (Linux, Mac, Windows, Free) to compare two files, but there are many others.
Source citations: Since the Page box on the source citation form in RM is very small, it occurred to me that you could change all 3 PAGE tags in your GEDCOM file to 3 NOTE tags so that this information is imported into a note field. Just make sure you don't have any other instances of "3 PAGE" in your file; you might have the word "page" in a source citation, but I doubt if you'll have "3 page". RM imports source citation notes into the Comments box of the source citation form, and it's much larger and easier to use than the Page box. This isn't an elegant work-around because, if you have any actual page numbers in the PAGE tag, they'll be moved to a note. Update: This step should no longer be necessary, since it appears RM is doing it automatically during import.
Help Function on Mac: If you click Help > Contents (F1) in the Mac version, it will open, but do not click on the Index or Search tabs, as they do not work, and when you try to go back to Contents, it will be blank. Just use the expanding folders on the left when you first open Help to drill down to what you want.

GEDCOM 5.5.1 Test: RootsMagic passes the GEDCOM 5.5.1 Test. While it has a few compliance issues, both with import and export, it exports GEDCOMs using UTF-8 encoding and correctly labels the files as version 5.5.1.
Updates
22 Dec 2015: RootsMagic has a page with some guides and videos for FTM migrators.
25 Dec 2015, Combining media files: Added information about combining media files in the same folder for Mac users whose media filed are not all in the same folder prior to changing the file locations in the GEDCOM file.
26 Dec 2015, RootsMagic 7 Updates to Accommodate FTM Users: I note that RootsMagic released an update specifically to accommodate FTM users importing their GEDCOM:
Fixed: Importing GEDCOM from FTM with long fact descriptions will put the description into the fact note rather than just truncate it
Fixed: Importing GEDCOM from FTM preserves the "profile" or "primary" photo for a person
Fixed: Importing GEDCOM from FTM preserves links to the online source for citations (as a WebTag)
New: A person's media album now displays media attached to citations belonging to the person
I applaud RootsMagic for this, although I suggest that it would be better to put all event fact descriptions other than "Y" into the fact note, not just long ones. Perhaps they can take a look at fixing the other problems I pointed out in the Cons section above.
30 Dec 2015, More RootsMagic 7 Updates to Version 7.0.10.0 to Accommodate FTM Users:
Fixed: Importing GEDCOM from FTM now imports all built in FTM fact types
Fixed: Importing GEDCOM from FTM imports media date, description, and note
Fixed: Primary name sources and media in GEDCOM files are imported as general sources and media
Fixed: Children in each family are sorted by birth after importing FTM GEDCOM file
Fixed: Importing a GEDCOM from FTM Mac converts the media paths to preserve media links
Fixed: Some death information was being skipped when importing a FTM GEDCOM
Fixed: Numerous other tweaks to the import for FTM GEDCOM files
31 Dec 2015: I added the RM fields to the GEDCOM Crosswalk at Family Tree Maker to GEDCOM to Other Apps Crosswalk.
I exported a RM tree to GEDCOM 5.5.1 and found the following errors or problems:
– Doesn't export the following 5.5.1 tags correctly or at all:
FORM (multimedia format). In OBJEct record, FORM tag must be 1 lower than the FILE tag, per the standard (Fig ). Uses illegal NOTE and REFN tags; if a note, change date, reference number, or source are needed, then the multimedia record with cross-reference should be used rather than the structure without a cross-reference (GEDCOM 5.5.1, p. 26). Also, includes a custom _TYPE tag when there's already a standard MEDI tag for media type, and custom _DATE tag instead of OBJE.CHAN.DATE (multimedia object change date). Custom tags should be minimized in order to maximize compatibility with other systems.
The following address element tags must be part of an event structure and may not be at level 1 of an INDI record; they must be part of an event structure:

ADR1, ADR2, CITY, STAE, POST, CTRY
EMAIL
FAX
PHON
WWW
– Exports LDS Initiatory field using the custom tag WAC (without an underscore). FamilySearch expects GEDCOMs to use this tag, even though their own GEDCOM standard does not list it.
– Includes custom fields in SOURce records that probably will not be read by most other systems, like _BIBL, SUBQ, _TMPLT, FIELD, TID, and VALUE. Most likely these fields are only useful for other RootsMagic users, and it would be better for them to exchange RM rather than GEDCOM files.
– Exports To-Do Tasks as _TODO, Research Logs as _RLOG, and Web Tags as _WEBTAG, which are custom tags. It would be better to use NOTE tags so they are more likely to be imported by other systems.
Still, I'm impressed by the willingness of RootsMagic's developers to continually improve and hope to see the remaining issues resolved soon.
4 Jan 2016: RootsMagic released version 7.0.11.0 with the following changes:
New: Option on Family Group Sheets to only print "basic" (b, ch, d, bur, marr) facts
Fixed: Select exit from the Mac menu at the top of the screen closes RM properly
Fixed: Importing GEDCOM from FTM imports addresses as an address fact now
9 Jan 2016: I updated the article with information on how to widen the Page box in the source citation window. I also tested the updates in RM 7.0.11.0. It does now indeed import addresses (at least the ADDR tag) attached to events as part of the event, rather than ignoring them. However, it still ignores properly structured EMAIL, PHON, and WWW tags that are part of an address structure that in turn is part of an event structure.  As for the Exit menu on a Mac, all methods of exiting or quitting RM work properly.
28 Jan 2016: Added a paragraph about RootsMagic's way of exporting the Place Details field.
8 Mar 2016: As of version 7.1, RootsMagic can now directly import any Family Tree Maker file. Interestingly, RM claims it "can import a bigger variety of Family Tree Maker files than any single version of Family Tree Maker itself." See the RootsMagic Blog for details. I will test and report on this new feature in a future update, but it should be a much better way of transferring data from FTM than GEDCOM, since both FTM and RM have problems with their GEDCOM handling.
15 Mar 2016: Added a paragraph about direct import of FTM files at the beginning of the article.
19 Apr 2016: Added some address tags that are incorrectly exported.
29 Apr 2016: Updated the information about Place Details export. Added a paragraph about passing the GEDCOM 5.5.1 Test. Also, most of the issues with the Mac version still exist.
The Family Tree Software Alternatives Series
*Information current as of the date of this post