This is Part 2 of a series on replacing Family Tree Maker. If you haven't already, please read Part 1 first on How to Scrub Your Data. In Part 1 I showed how FTM does not produce GEDCOM standard compliant files (have you contacted Ancestry.com yet?) and explained a few things you can do within FTM to fix your data. In this article I'll go through the steps to export your family tree to a GEDCOM file and edit the file directly to fix things that can't be changed in FTM. But you don't want to edit your GEDCOM directly until you're completely finished making changes in FTM. The steps for both the Mac and Windows versions are similar, but the figures shown are from a Mac.
Most people probably know how to export their family tree, but for those who don't, here are the steps:
1. Go to File > Export (Fig 1)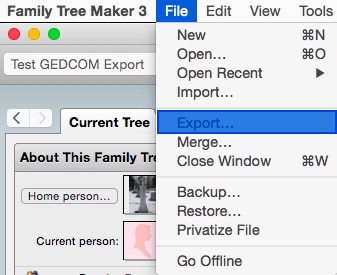 2. Select either the entire file (most cases) or selected individuals, GEDCOM 5.5 as the file type, and make sure the boxes for include private facts and notes and media files are checked. Do NOT check the box for "Privatize living people." If you choose selected individuals, check the box "Include only items linked to selected individuals." Click the Export button (Fig 2). Note: you cannot export tasks, charts, reports, or books.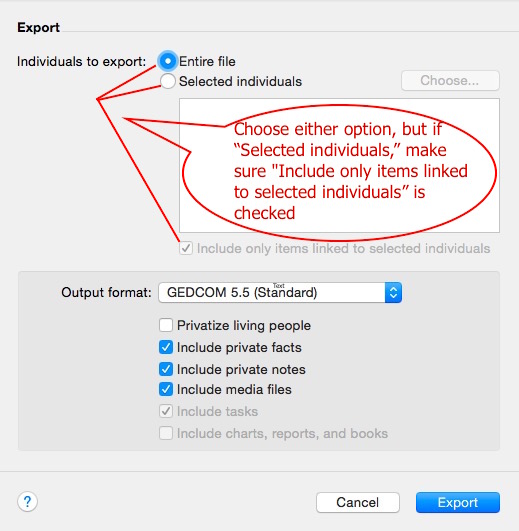 3. Give your GEDCOM file a name, choose a location, and click the Save button (Fig 3)

4. You should get a message that the tree has been successfully exported. Click the OK button (Fig 4)

Before you import your freshly created GEDCOM file into another application, you should clean up a few things, some of which I mentioned in Part 1. In order to fix some of the problems in a GEDCOM file, you'll have to open it in either a plain text editor (like TextEditor on Mac or Notepad on Windows, but don't use a word processor) or a GEDCOM editor. The advantage of a text editor is that you already have one on your computer. The disadvantage is that GEDCOM was not intended to be human readable (although it can be); this is the advantage of a GEDCOM editor—it can make the file more readable. The disadvantage of a GEDCOM editor is that there's a learning curve to using it. Here are a few options: GedPad (Windows, free); and GEDCOM Lexer Plugin for Notepad++ (Windows, free). Unfortunately, there are no good GEDCOM editors for Mac that I could find, except possibly GenealogyJ, which requires a legacy version of Java. There's an app called GEDCOM Editor, but it discards invalid syntax and is no longer supported.
For Mac users I recommend either Text Edit or one of the Windows options, especially GedPad as it's free, can be installed easily using Wine-type software like CrossOver, and has some nice features like Search and Replace. Ben has two tutorial videos that apply here, one on how to run a Windows app on your Mac using CrossOver, and one on how to use VirtualBox. (Note: these videos also show how to install RootsMagic (RM), which is no longer needed since RM provides an app already bundled with CrossOver. But the steps in the videos still apply to other apps like GedPad). While I like both CrossOver and VirtualBox, I think CrossOver is a little expensive, and you must keep paying for major updates. VirtualBox is free, but you must have a valid Windows license, and it requires a lot of resources in RAM and disk space, since you're installing a full version of Windows on your Mac. I prefer one of the free alternatives to CrossOver, such as Wineskin, WineBottler, or PlayOnMac; they're all based on the open source Wine engine. In a separate article I will explain how to install a simple Windows app with no dependencies, like GedPad, using WineBottler. For most of this article, I will be using a plain text editor, but when I refer to "editor," you can use either a text editor or a GEDCOM editor.
WARNING: Before editing your GEDCOM file, make a back-up, and make a new back-up (with a different file name) after each major step so that you can revert to an earlier version if needed. Making the wrong change to your file will result in the loss of some data at best, or failure of your GEDCOM to be imported at worst. Follow the instructions below, or use the GEDCOM 5.5.1 Standard document, and make sure you understand what you're doing.
Open up your GEDCOM file in your editor. You will see something like Fig 5.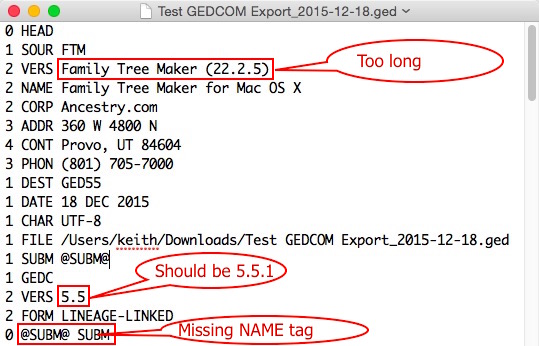 The line numbers indicate each line's level in the hierarchy—be very careful not to change them unless the directions say so. The word in all caps after the line number is the tag. The VERS tag after SOUR FTM is too long—it can be only 15 characters. Change it to the version number for your copy of FTM. The DEST tag should list the application the file will be imported into; it was mainly used when GEDCOMs were used for Mormon Church Ancestral Files or temple ordinance clearances. If you know the destination, you can change GED55 (no more than 20 characters); otherwise, change it to GEDCOM.
FTM GEDCOM files identify themselves as GEDCOM 5.5 files according to the GEDC.VERS tag but use elements (some improperly) which were added in 5.5.1 (such as the EMAIL tag, multimedia objects instead of blobs, and UTF-8). GEDCOM 5.5.1 is the de facto standard, even though the document is still marked as a draft. Therefore, FTM GEDCOM files should specify 5.5.1 in the GEDC.VERS tag in the header—change it accordingly. Update 5 Jan 2017: Starting with versions 2014.1 and 3.1, FTM correctly specifies 5.5.1 as the GEDCOM version, so it's only necessary to change this for earlier versions of FTM.
Also in the header, the submitter record requires a NAME tag under it. After the line 0 @SUBM@ SUBM, add the following line, replacing "Your Name" with the name you want to use:
1 NAME Your Name
Now that the header is fixed, here's how to correct the items I discussed in Part 1.
Also Known As: If you didn't pick option 1 or 2, first you might want to see if your chosen FTM replacement can read the ALIA tag the way FTM intended. If it does, you have nothing further to worry about. If it doesn't, you can simply find and replace all instances of ALIA with the custom tag _AKA (the underscore is required as it designates it as a custom tag). Just be aware that some apps ignore custom tags and may or may not provide a log file listing what they ignored. Update 5 Jan 2017: As of FTM 2014.1 and 3.1, Also Known As is now exported correctly, so it's only necessary to correct it for earlier versions.
Address, phone or email: Do a Find on ADDR, PHON and/or EMAIL, as appropriate . The ADDR in the header and repository records are OK, as is the PHON in the header, but any ADR, PHON or EMAIL tag under an INDI, or individual, record does not comply with the GEDCOM standards. You will have to do the following to make them compliant (but see update below):
1. Highlight the whole line and cut it
2. Find an event under the same INDI, like a residence (tag RESI), and paste the line you cut under it. If there's a DATE tag, the line may be below it, and if there's a PLAC tag, you might want to put the line above it. Maker sure the ADDR, PHON, EMAIL, and WWW tags all have line number 2, just like the DATE and PLAC tags. Here's an example:
1 RESI
2 DATE 1900
2 ADDR 123 Main St
2 PLAC Winslow, Jefferson, Pennsylvania, USA
2 PHON 555-456-7890
2 EMAIL mary@gmail.com
2 WWW www.marysmith.com
You could also use the ADR1, ADR2, ADR3, CITY, STAE, POST, and/or CTRY tags (optional, not shown; see p. 31 of the 5.5.1 standard). If you choose to use them, they also go under the ADDR line but before any other line, each with line number 3.
3. Go back to the blank line where you cut a line and delete it. There can't be any blank lines in a GEDCOM file (or at the beginning or end).
Update 9 Jan 2016: Be aware that few apps completely follow the GEDCOM standard on addresses, so if you try to follow the standard, you may end up losing data. See my article, "The Perils of Following the GEDCOM Standard."
Web address: FTM uses the EVEN/TYPE tags for this, which isn't wrong, but since there is an actual tag for web address (WWW), I prefer to use the structure in the example above.
Race: Again, FTM uses the EVEN/TYPE tags for this, which was fine under GEDCOM 5.5, but 5.5.1 introduced the FACT tag, which is more appropriate for attributes like race. Therefore, I find all instances of  "TYPE Race" and change the EVEN tag above them with FACT, like so:
1 FACT Native American
2 TYPE Race
However, if your chosen genealogy app doesn't support GEDCOM 5.5.1, do not change EVEN tags to FACT tags. Update 9 Jan 2016: I have yet to find an app that can read the FACT tag.
Sealed to Parents (LDS): FTM omits the required child-to-family link; take the following steps to correct it:
1. Search for tag SLGC and insert a blank line under it.
2. Scroll down until you find the first FAMC tag below that occurrence of SLGC. If you can search forwards for FAMC without losing your place, go ahead, but be aware that when using Apple Text Edit, it automatically starts from the top of the file and searches forward from there.
3. Once you've found the first FAMC tag after the SLGC tag you're working on, copy the entire line.
4. Go back to where you inserted the blank line and paste the FAMC line.
5. Finally, change the line number to 2. The SLGC record should now look like this:
1 SLGC
2 FAMC @1499@
Multimedia: As I discussed in Part 1, there are several things wrong with how FTM exports multimedia information:
1. It's missing the FORM (file format) tag, e.g., jpg, pdf, etc. While this may seem unnecessary because of the file name, it is required by the standard. Some apps may let you get away without it, but if you want to fix it, you'll have to add it to each multimedia record. Search for "@ OBJE" so you get only the records themselves, not the cross-references to them.
2. The TEXT tag is illegal in a multimedia record. Search for "2 TEXT" and replace them with "1 NOTE". Just make sure you're replacing only "2 TEXT" tags that occur under multimedia records; I don't believe there are any that occur elsewhere. Any CONC (concatenation) lines after the NOTE line must begin with the number 2. You can search for "3 CONC" and replace all occurrences with "2 CONC".
3. The DATE is in the wrong structure. It must be preceded by a CHAN (change) tag to be GEDCOM compliant. Insert a line before the DATE tag and add "1 CHAN" (note that this does not apply to a date for a fact or event). Here's an example of the correct structure for a multimedia record:
0 @M1049@ OBJE
1 FILE /Users/keith/Documents/Family Tree Maker/Test GEDCOM Export Media/1900 US census population schedule.jpg
2 FORM jpg
2 TITL 1900 U.S. census, Winslow, Jefferson, Pennsylvania
1 CHAN
2 DATE 1900
1 NOTE Census Place: Winslow, Jefferson, Pennsylvania, Record for Stephen 
2 CONC Larco; Roll: 1417; Page: 31A; Enumeration District: 85; citing NARA 
2 CONC microfilm publication T623
Update 9 Jan 2016: Many apps and websites will probably be able to read the media date as it is; in fact, if it's correctly formatted, they may not be able to read it!
Unlinked notes: FTM does a good job of exporting to a GEDCOM file only media and sources that are linked to other records. However, it exports unlinked notes, such as if you export only selected individuals. The GEDCOM file will contain all the notes in your tree, even if you check the box, "Include only items linked to selected individuals." A GEDCOM file should not contain unlinked records. Most genealogy apps will report and/or ignore any unlinked records, which is fine because you don't need them anyway. However, if you want a clean GEDCOM file without any extraneous information, this is where the app GedPad comes in handy. It has a feature to find all unlinked records and delete them all with the click of a button. Here are the steps to do it:
1. In GedPad Pro, click on the middle Unlinked Records button to find the first one (Fig 6)
2. Click the Find Next button to assure yourself that only unlinked records have been found. In my tests, this was the case
3. You can safely click the red XXX button to delete all unlinked records, and then click the Save button at the bottom (not shown)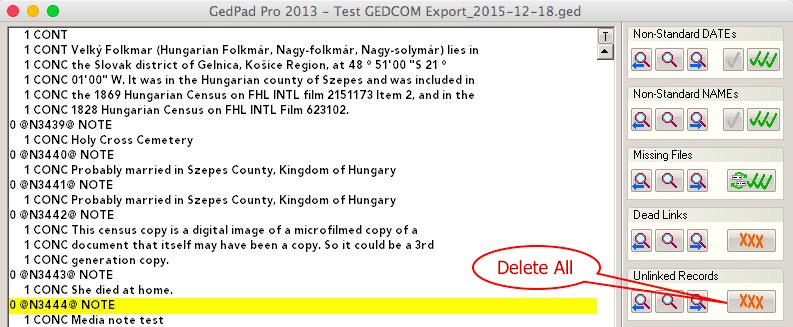 Lastly, FTM uses the CONC tag for concatenation (word wrapping) incorrectly. The GEDCOM standard states, "The CONC tag assumes that the accompanying subordinate value is concatenated to the previous line value without saving the carriage return prior to the line terminator. If a concatenated line is broken at a space, then the space must be carried over to the next line" (p. 10, italics added). Furthermore, "There are special considerations required when using the CONC tag. The usage is to provide a note string that can be concatenated together so that the display program can do its own word wrapping according to its display window size. The requirement for usage is to either break the text line in the middle of a word, or if at the end of a word, to add a space to the first of the next CONC line. Otherwise most operating systems will strip off the trailing space and the space is lost in the reconstitution of the note" (p. 37, italics added). FTM does not do this. It breaks the text at the end of the word but leaves the space after the word instead of putting it at the beginning of the next line. There isn't much you can do about this unless you know how to code. I bring it up mainly for your information in case you run across an app that strips spaces at the ends of lines so that you end up with text that is missing spaces. However, I believe that most modern apps don't do this. Family Historian offers to fix it for you, but I found that it added extra spaces.
Once you're finished editing your GEDCOM file, save the final version. I recommend you now use a GEDCOM validator to ensure you've fixed the major errors without introducing any that will prevent your file from being imported. Update 15 Apr 2016: Unfortunately, GigaTrees, the operator of the VGedX validator, is shutting down due to lack of funds. I will update this post again once I've found a suitable replacement. I highly recommend the VGedX online validator. VGedX is self-explanatory to use; you'll have to register for an account with GigaTrees if you don't have one. You can leave the Configuration Options set at their defaults if you don't know what they mean (Fig 7). Update 5 Jan 2017: GigaTrees and its GEDCOM validator are now "available as a downloadable, standalone, cost and ad free, Windows 64-bit, console application." You can download them from here; should the live page disappear again, they're available from the Internet Archive.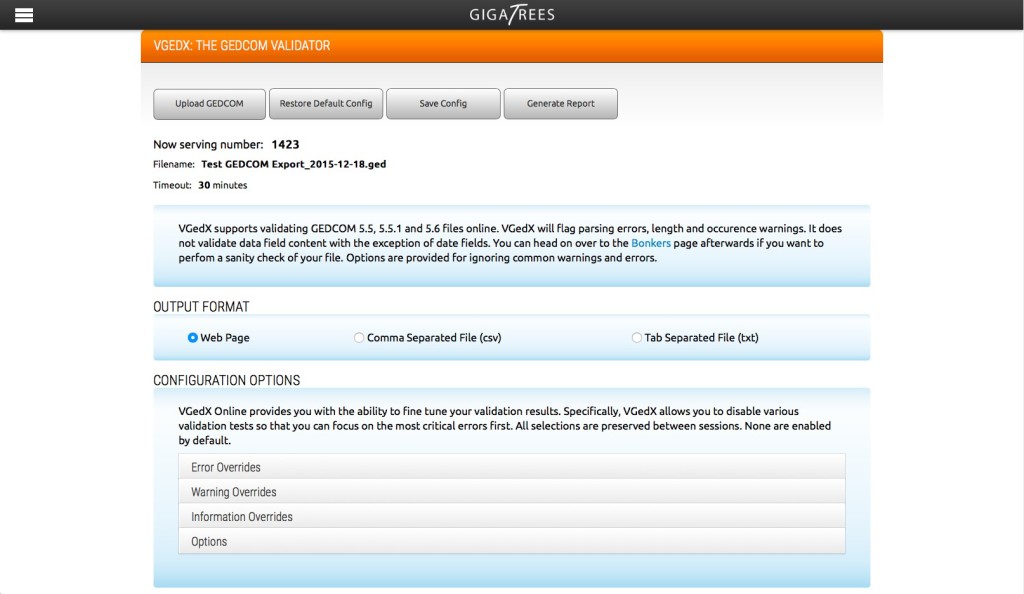 After you generate your report, you'll see an output like that shown in Fig 8, assuming you picked the web option. The file path and name exceeding the maximum length error shown in Fig 8 shouldn't be a problem for most apps. One thing to be aware of is that it flags NOTE records that are null but have a following CONC line as "Data Missing." FTM structures most NOTE records this way, so you will get a lot of warnings, but these are valid warnings about noncompliance with the standard. If you find VGedX useful, please consider making a donation to GigaTrees (use the Donate Now button in the main menu).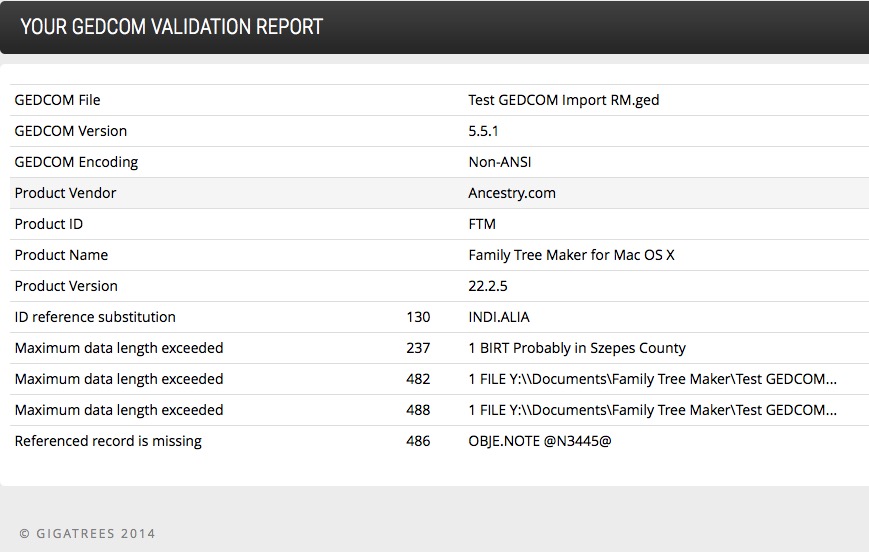 By now, if you've followed all the steps outlined in this article and Part 1, you should have a fairly clean GEDCOM file that you can import into another application or website. What other apps will do with your pristine GEDCOM file remains to be seen and will be covered in the remaining parts of this series. The bottom line is that you shouldn't just export your FTM file to GEDCOM and import it into another app or website without at least checking it, and at best fixing the errors we know that FTM includes.
Acknowledgements: Tamura Jones of the Modern Software Experience blog — Some of his articles on GEDCOM and genealogy software testing informed this series. While we don't agree on everything, the fact that I independently arrived at some of the same conclusions as he should tell genealogy software developers something. Tim Forsythe of GigaTrees — for his excellent VGedX GEDCOM validator, which I used extensively to test GEDCOMs exported by Family Tree Maker.
Updates
21 Dec 2015: Fixed contradictory wording about CONC tags in multimedia records. Edited paragraph on VGedX based on developer changes.
22 Dec 2015: Edited paragraph on VGedX with additional changes.
27 Dec 2015: Clarified the use of the CHAN.DATE structure in multimedia records.
2 Jan 2016: Added an Acknowledgements section.
9 Jan 2016: Added notes to the sections on Address, Race, and Multimedia that many apps will not read correctly structured GEDCOM files in these areas, so it may be best to leave them as FTM exports them.
3 Mar 2016: Now that FTM has been given a new lease on life, please see my post, "Should You Stick With Family Tree Maker?"
15 Apr 2016: Deleted the information about the VGedX GEDCOM validator.
5 Jan 2017: Based on the latest versions of FTM, 2014.1 and 3.1, I updated the information about the GEDCOM VERS tag and the Also Known As field; also updated the information about GigaTree's GEDCOM validator.
The Family Tree Software Alternatives Series