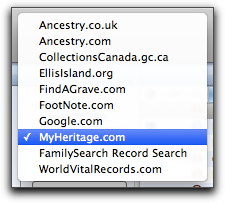 The 6.0.5 released of genealogy software MacFamilyTree consists primarily of bug fixes and performance improvements. It does contain one new feature though. The folks at Synium have added MyHeritage.com to the list of services in the web search feature.
Click the image of the menu to the left to see an image of the web search view with the results MacFamilyTree retrieved from MyHeritage.com when I searched for my g-g-great grandfather George Washington Terry.
Do you want a video walkthrough of the new feature? Let me know in a comment.