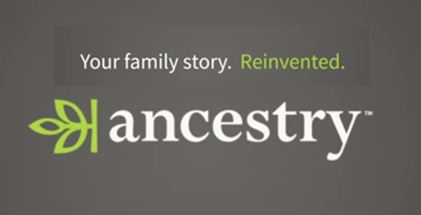 A few of our readers have asked what problems Ancestry.com has with GEDCOM files. One reader reported, "If you mainly work on your tree online in Ancestry.com and rely on TreeSync to move the data to FTM [Family Tree Maker], a lot of the source and citation descriptions get truncated during the download due to their length. So unless you check every source and citation after running TreeSync, you'll end up with a lot of incomplete source and citation descriptions." My personal workflow is the opposite of this, so I haven't had problems with sources or citations getting truncated. I mainly work in FTM and then sync my tree with Ancestry.com.
Still, I was curious to see what problems Ancestry.com has with handling GEDCOM files, so I uploaded to Ancestry.com my small test GEDCOM file using Family Tree Maker 3 (for Mac) . I used FTM to upload it because all data should be upload, including multimedia, within the limits of TreeSync. My tree did not contain any items that would not sync. I then immediately exported my tree from Ancestry.com as a GEDCOM file. My findings for how well Ancestry.com follows the standard when exporting a GEDCOM file follow.
PROS
+ In general, with a few notable exceptions described in the Cons section below, Ancestry.com exports most data in a family tree to a GEDCOM file.
+ Since at least Dec 2015, Ancestry.com has been including the URLs for multimedia files attached to a family tree. But see Cons.
CONS
– Although multimedia URLs are now exported to GEDCOM files, I could not get any of the links to open in a browser. Even if they did open, their usefulness would be liimited, since each link would have to be copied and pasted from the GEDCOM file into a browser.
– Fails to export media dates and descriptions. This is the most serious shortcoming I found. Users who have a lot of multimedia in their tree and rely on an exported GEDCOM file would have to re-add all of this information manually.
– Uses the UTF-8 character set but mislabels its GEDCOM file version as 5.5, when it should be 5.5.1, since UTF-8 was not supported until the latter version. This can be corrected by manually editing the GEDC.VERS tag in the GEDCOM file to read 5.5.1.
– ADDR, EMAIL and PHONe tags are exported directly subordinate to an INDIvidual record rather than to an event, such as residence, as required by the GEDCOM standard.
– Web address is exported using the EVEN.TYPE structure instead of the standard tag WWW.
– Valid GEDCOM tag ADDR attached to an event details are moved to a note on the same event.
– Fails to import user-assigned reference numbers on people and relationships, and the field doesn't exist on Ancestry.com to be added manually.
– Sealed to Parents (LDS) tag SLGC is missing required child-to-family link (FAMC).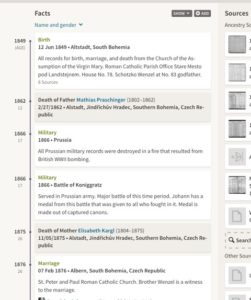 – Like Family Tree Maker, Ancestry.com allows users to add descriptions to facts and events that shouldn't have them (Fig. 1). The GEDCOM standard allows event descriptions only on attributes like Education, Occupation, and Religion, and on  generic Events, but not on Birth, Death, Marriage, etc. Additional information that you want to attach to specific events should go in the event note. Otherwise, other apps might ignore or truncate the descriptions.
Conclusion
If you don't use any of the items listed in the Cons section, or have very few of them, you could safely use a GEDCOM file exported from Ancestry.com. On the other hand, if you do have a lot of these items, especially multimedia with dates and descriptions, the better course of action would be to use Family Tree Maker 2014 or 3 to download your family tree from Ancestry.com. But note the caveat that if you have long sources or citations, some of them may get truncated. The best course of action would be to use FTM to maintain your tree and sync it with Ancestry.com, at least for as long as TreeSync is still functional (1 Jan 2017).
The GEDCOM Crosswalk table has been updated with the Ancestry.com fields and tags.

GEDCOM 5.5.1 Test: Ancestry.com fails the GEDCOM 5.5.1 Test. It incorrectly labels files exported using UTF-8 encoding as version 5.5; UFT-8 wasn't allowed in 5.5.
Updates:
30 Apr 2016: Added a statement about the GEDCOM 5.5.1 Test and a paragraph about event descriptions.
The Family Tree Software Alternatives Series