I just started using a service called Dropbox to store a remote backup of my genealogy database and share GEDCOM files with family members and other genealogists. Free accounts are limited to 2GB of storage. More space is available for a monthly fee.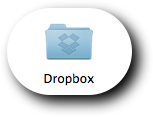 The drop-dead easy install creates a folder in your home folder (you can specify a different location) and puts an icon in your Finder sidebar and menubar. Any files and folders you put in the Dropbox folder are synchronized to the online copy. This simple act makes it easy to:
keep files synchronized between multiple computers (including Windows and Linux)
backup your genealogy files
share files with other people (you have to explicitly share the folder)
access the files from another computer via a secure website
access files (like PDFs) from an iPhone
I think you'll find Dropbox as amazingly simple to use as I do and a valuable addition to your Mac genealogy software toolbox.