You be the judge. Back on October 8th of last year someone submitted this comment on my post, "Reunion for Mac 9.0a Release Fixes Snow Leopard Incompatibility: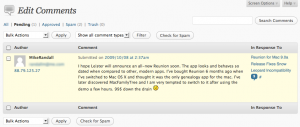 As you can read if you click on the picture above to see the full size version of the unapproved comment from my dashboard, the comment complains about Reunion's interface and suggests that the person may switch to MacFamilyTree.
Something struck me as strange about this post, so I checked the IP address of the computer from which it was submitted. You can see it on the left side of the image.  By the way, the blurry area above that is the email address that was entered with the comment; I didn't want to make that public. Anyway, I popped the IP address into the "Lookup" tab of the trusty Network Utility app that comes with our beloved Macs (which you can do too, to see for yourself). Here's what came back:
Lookup has started…

; <<>> DiG 9.6.0-APPLE-P2 <<>> -x 88.79.125.27 any +multiline +nocomments +nocmd +noquestion +nostats +search
;; global options: +cmd
27.125.79.88.in-addr.arpa. 43199 IN PTR    office.synium.de.
The last line is the important one: the domain is office.synium.de; the Internet domain of the producer of the MacFamilyTree software. Apparently someone at Synium submitted the comment! That casts the comment in an entirely different light, doesn't it?
This comment has been sitting in my queue, awaiting moderation since then. I've been torn about whether to make public the comment and my findings. Obviously I've decided to do just that—primarily for two reasons:
It's a reminder to think critically about opinions you encounter online.
I'm sick of looking at it and not taking action one way or another (delete it or post about it).
So, you tell me: what do you make of the comment and the evidence?