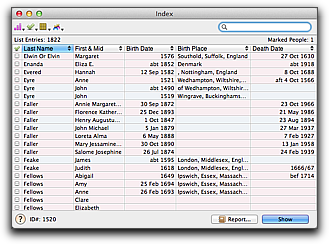 The index feature in Reunion 9 for Mac software presents a list of person records in your family file. It is useful for navigating your genealogy tree, linking people, marking people for operations like reporting and deletion, and is an initial step for creating an index of individuals report.
All of these functions are enhanced by the ability to modify the columns displayed in the index. In particular, finding an intended individual is easier when sufficient information is present to differentiate similar records.
Reunion enables you to add, remove, and change the order of columns. You can add a column then tell the software what to display in it.
By default the index displays names, birth date, and birth place. These are usually sufficient to distinguish one individual from another. It's also helpful to see the death date as well.

Easily Distinguish and Report on Individuals
This is especially true when creating an index report. Death dates won't appear in an index report unless the column is included in the index. There's another step to make it appear in the report too.
Adding the death date information to the index is a little extra insurance that you're selecting the correct individual when using the navigation, marking, and linking operations.
How to Add Death Dates to the Index and Report
In preparation for including death dates in the index report, make a change to the Reports preference pane.
Open Reunion Preferences (from the menu or command-,)
Click Reports
Select Index
Check the Show (birth-death) years box
Close the Reunion Preferences window
Next you add the death column to the index. The method I use is:
Open the index (from the toolbar or press command-i)
Narrow the index window
Select Add Column from the Column dropdown
Widen the index window
Set the new column's contents to Events | Death Date using the double arrow
Click and drag the death date column's title to put the column where you want it
Try setting your index report to include death dates and add the column to the index then generate an index report to see how it can help you research your family history.